Ruffwear Cloud Chaser Dog Jacket: A 14 Year Review
---
Whether you are venturing out on a day hike with inclement weather in the forecast, or heading out on a multi-day backpacking trip, when you're doing so with a canine companion taking the appropriate gear not only for yourself, but also for your dog is critical. A dog jacket is one such item that I put to constant use on the trail – nearly every backpacking trip into the mountains – in addition to other dog-specific gear like dog packs and sleeping bags. While there are many dog jackets that will keep a dog warm, there aren't many that will also keep a dog (relatively) dry if wet weather rolls through during the hiking day.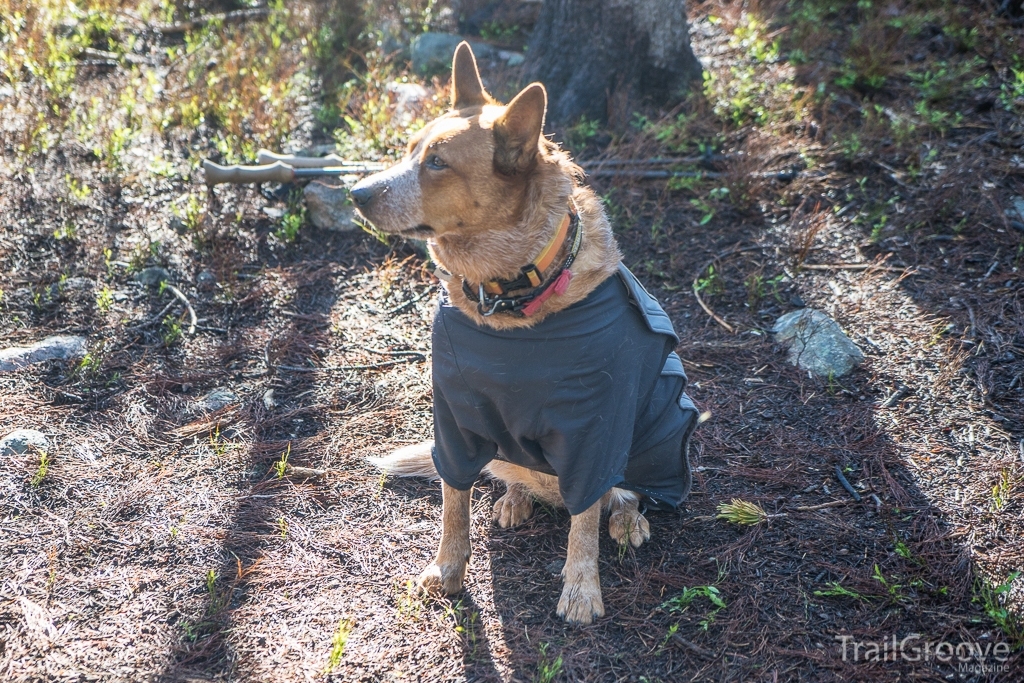 Weighing 9 ounces in a size large, the Ruffwear Cloud Chaser Dog Jacket is one solution that performs well for all around backpacking and hiking usage. This jacket is sleeved in the front for additional warmth, and features a stretchy bottom with a waterproof / breathable top section. Both the top and the bottom have a water repellent DWR coating. Reflective trim and a light loop on top complete the exterior of the jacket. The interior is lined with a very light fleece. Getting the jacket on and off is pretty easy with a little cooperation from your dog – get the front sleeves on and then zip the jacket on. Folding the zipper back locks operation so it will not unzip itself while on the trail, and there is both an inside zipper guard and outer zipper cover that serve to keep the zipper from snagging fur and also to block the weather. Rearward, there's enough room for calls of nature without the jacket getting in the way.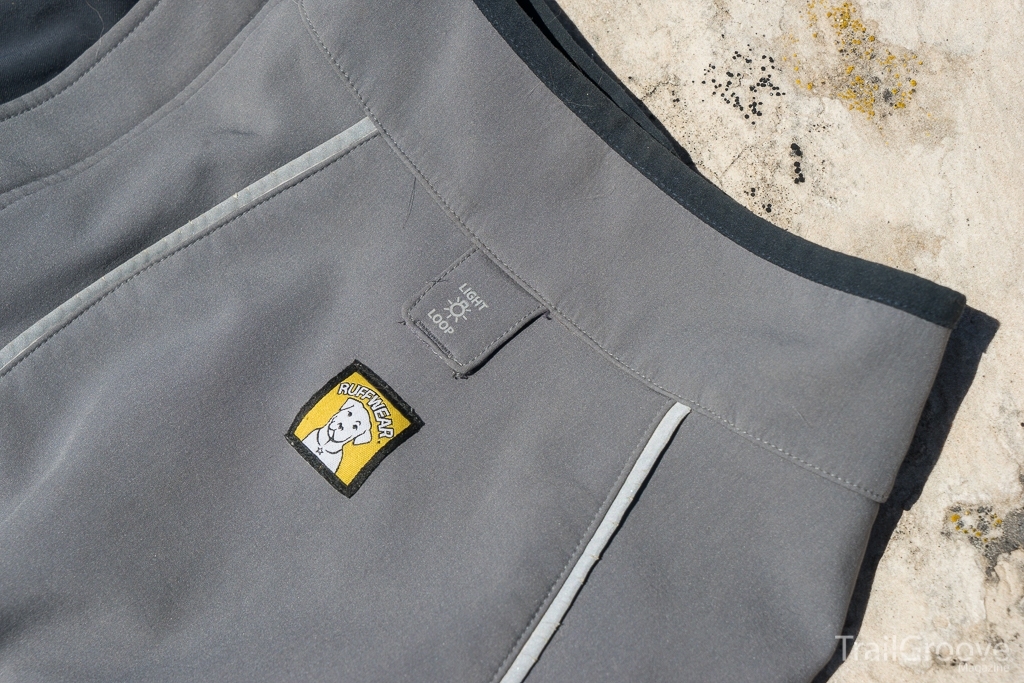 While this jacket doesn't exactly feature warmth appropriate for the arctic, and doesn't offer rain protection for something like an all-day downpour, the jacket is most appropriate to take the edge off the cold, block some wind, and to assist in keeping the dog somewhat dry. Since this isn't full coverage like rain gear we might wear, your dog will still get wet in the rain and the bottom of the jacket is not waterproof. However, even if they do get wet, this fully synthetic jacket will help to keep them warmer. The jacket is also great for chilly nights in the tent. The jacket is offered in 6 sizes, sized by measuring around your dog's chest behind the front legs. Sizing wise, my dogs have measured to fit the medium, but after trying that size I found it worked but was just a bit too tight. I like to size up in the Cloud Chaser, especially for backpacking purposes where your dog will wear the jacket when they sleep at night. If the jacket is too tight, not only will your dog be uncomfortable, but it will compress their fur and they will be less warm as a result.
Overall…and currently going on 15 years of use all on the same jacket, I've found the Cloud Chaser to work very well for hiking and backpacking with dogs – it offers just enough warmth for 3-season chilly mountain backpacking trips, and is perfect to have on hand if inclement weather rolls in where you need to have some type of protection for your dog. At night, your dog needs to stay warm and get a good night of sleep just as much as you do. The Cloud Chaser helps in all these respects, packs fairly small, and while I wish it was a bit lighter to carry around, it's well worth the tradeoff for me. While I've found the Cloud Chaser to work great for all-around usage, Ruffwear offers a few choices in the dog jacket market, one of which will likely be a good fit for the conditions you and your dog are likely to encounter. These include the insulated Powder Hound and the fleece-only Climate Changer Jackets.
The Ruffwear Cloud Chaser Dog Jacket retails for about $80. You can find it here at Amazon and at Backcountry.com.