Backpacking Pots and Cookware Selection Guide
---
Performing a few simple yet vital tasks, our choice of a backpacking pot is one item that the rest of our cooking gear will frequently revolve around, especially if you like to pack your entire cooking kit inside your pot. A backpacking pot serves as a vessel in which we can prepare our backcountry meals and heat or even sanitize water if needed – and despite being such a simple item it is not one easily replaced. In fact, if one were only allowed to take a few items of gear into the backcountry a good pot would be near the top of one's list. This article will cover basics on backpacking cookware selection while focusing on the main player in this department – the backpacking pot – as we've already covered mug selection and backpacking utensils at the aforementioned links.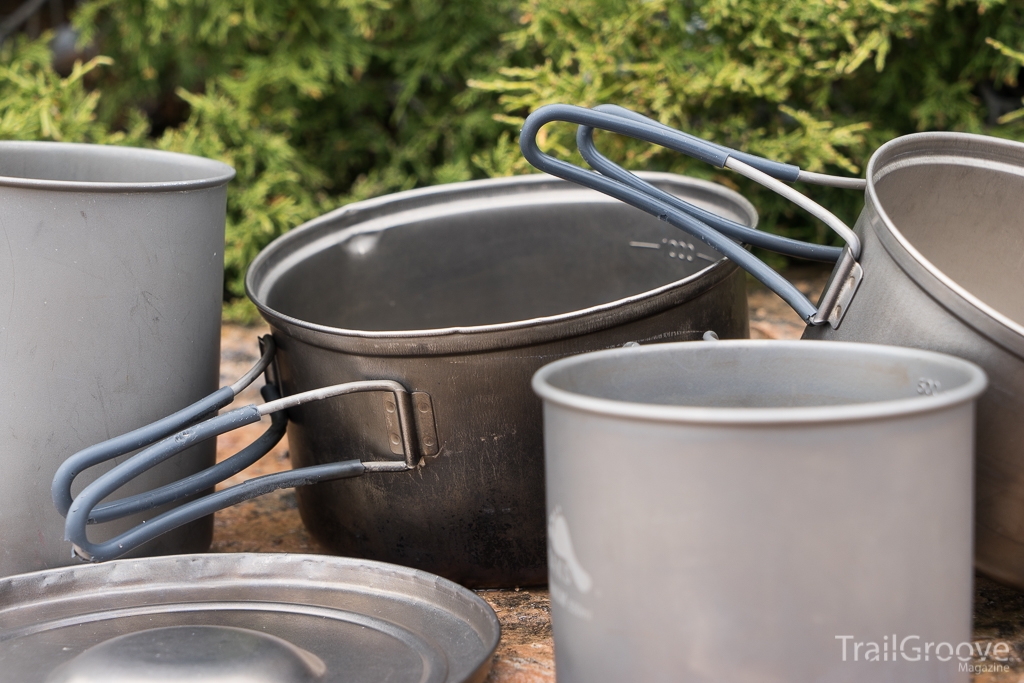 Capacity
With options out there in nearly every shape and size, the first step in narrowing down our cookware selection process is choosing the right capacity. In this regard we want to go with the smallest pot that will adequately cover our cooking needs, since weight increases with capacity. For solo use, pots or mug / pot combos in the range of 600-900ml are usually ideal for weight conscious backpackers. Sizes on the low end of this range will serve one well when it comes to boiling water for freeze dried meals or freezer bag style cooking, but if you like to cook simple meals in your pot, larger options are suggested. In these sizes many options will be of the mug / pot combo variety, like the Toaks 750 or the MLD 850. These choices, while often being on the large side for a mug and on the small side for a pot, can save some weight and keep your camp kitchen simple by having only one vessel, whether it's needed for morning coffee or meal preparation. For more involved meals it may pay to go with a larger, dedicated cookpot however along with a smaller dedicated mug.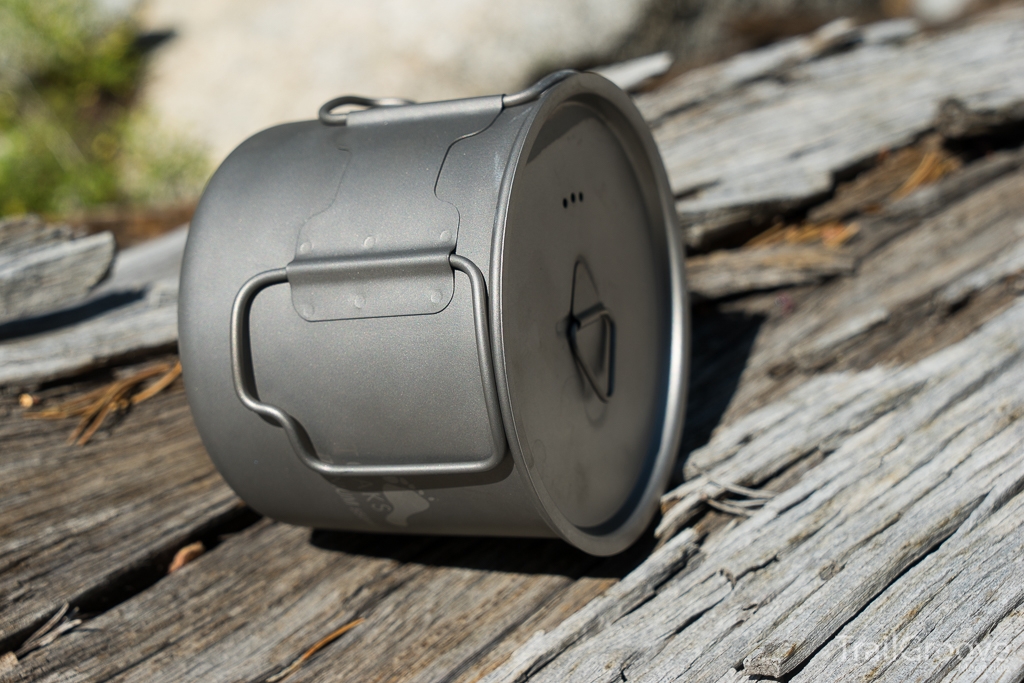 For groups of 2 or more however it will be time to move to a dedicated mug for each person, but a single pot can still be shared if desired. Here it pays to increase capacity as we'll be boiling more water at once and having a pot that can handle this capacity will increase efficiency. Generally, unless appetites are limited and you plan to split single meals, moving into the 1000ml / 1liter + capacity range is needed, and it's nice to have a little buffer to lessen the chance of spilling or boiling over. For 2 person trips the Evernew 1.3 liter pot has been about right for me, not only for basic meal preparation but this 1.25-1.5 liter range works very well for a wider range of cooking needs, from boiling water for 2 freeze dried meals, to cooking up a pasta dish right in the pot, or for comfortably heating water for an entire Nalgene.
For larger groups you will simply increase the capacity from here, although you can use your normal 2 person pot with multiple boils for the occasional group trip if needed. This won't be convenient for meals that are made in your pot, but can work for boiling water to go around for meals that just need hot water. At some point however it may pay to take separate cooking gear for speed, convenience, and for requiring less group coordination – and large pots are difficult to pack. Additionally, larger pots may also be too unstable, or too heavy when filled, to work with your stove of choice – suggested maximum pot sizes can often be found in your stove user manual. Solo or in a group, one situation where you will want to step up in capacity is if you'll be going winter backpacking and melting snow for water – with low water content in snow it can take a lot of snow melting to get those water bottles filled.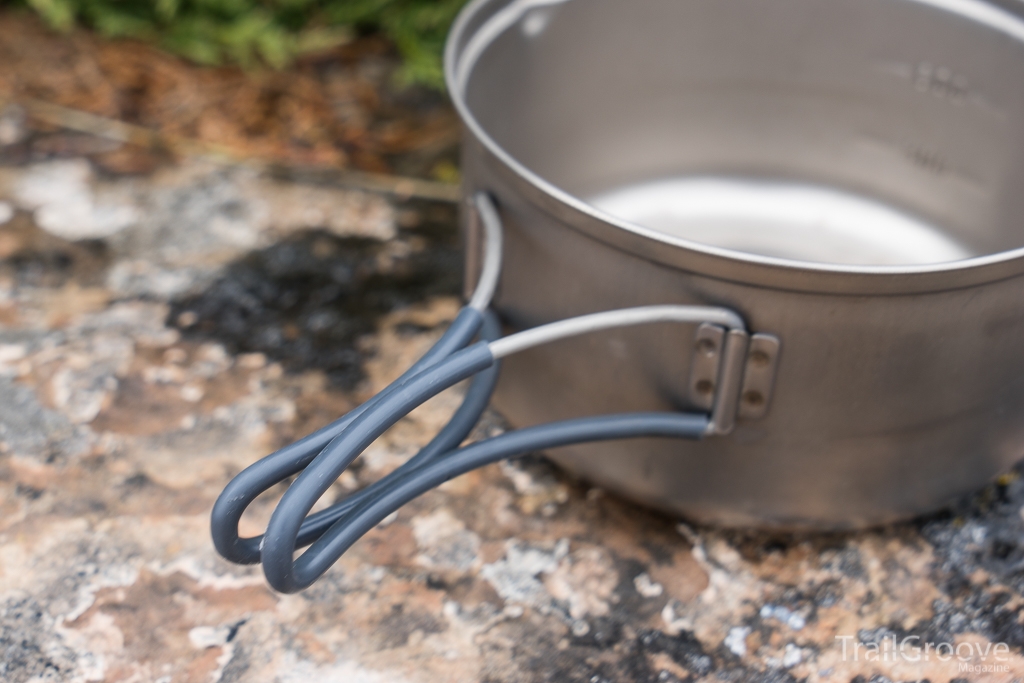 Features
Once you've decided upon the right capacity, there are a few other features to look for in the cookware department. One of the most important is shape. If you're going solo and choose a pot / mug combo option, your pot will probably end up looking like a large mug. However, when choosing a dedicated pot something shallower and wider is desirable over a skinny and tall form factor and the wider pot will be able to use more heat from your stove and increase your fuel efficiency on the trail. A nice tight fitting lid is essential for further fuel efficiency, as are ways to "handle" your pot. Look for collapsible handles, and if the handles feature an outer insulating material (often for lifting the lid as well) this can be helpful while adding minimal weight. However, ultralight cookware will often omit this feature to save weight, and in this case you can still handle the pot with a pot holder (bandanna, etc.) and / or by always making sure to configure your handles upwind.
If you'll be cooking more complex meals in your pot quite often a non-stick coating can be helpful, but may have health considerations or concerns for some, will add weight, and can scratch if the proper utensils or cleaning methods are not used. The ability to perform cooking tasks such as dry baking would also be limited. Additional features to look for include measurement marks stamped right on the pot to make meal preparation easier, and a built in pour spout is a nice to have for spill reduction when you'll be transferring hot water to another vessel. This could be the case when heating up water for a Nalgene bottle to make a shoulder season heater for example.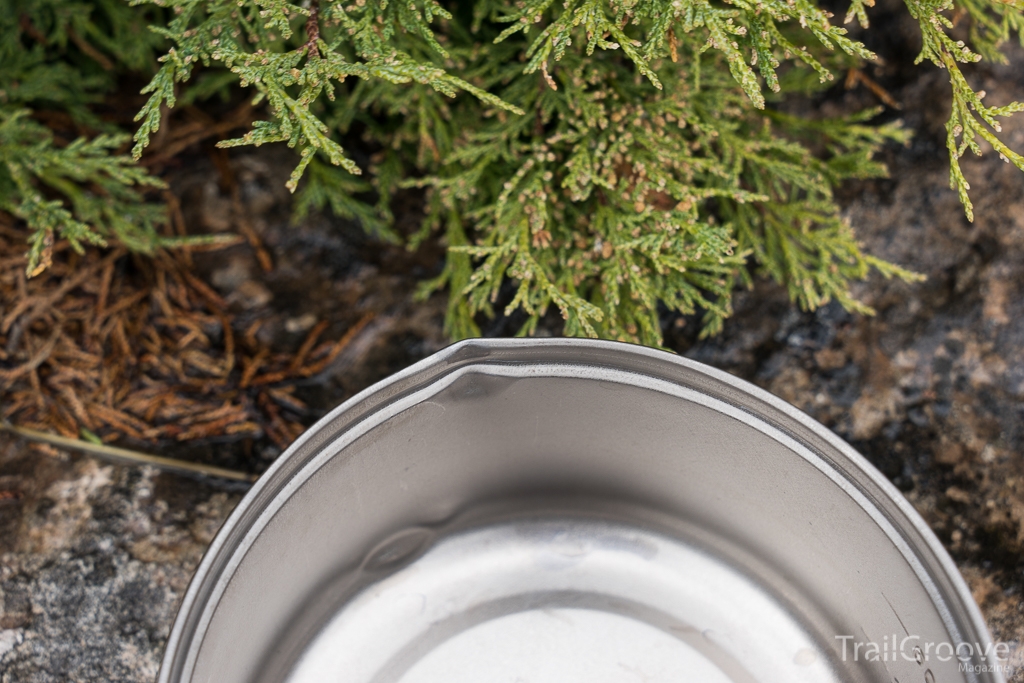 Materials
While exceptions exist, most of the time for backpacking purposes we'll be deciding between two materials – aluminum and titanium. Titanium will be the most expensive option, but is very light and strong, allowing pots constructed of this material to be of a very thin gauge. And while debatable, if aluminum cookware poses a health concern / consideration to you, titanium would be the way to go. For actual cooking, with its thin gauge construction and tendency to develop hotspots, titanium can be challenging, but not impossible to use if you'll be performing more complex trail cooking tasks in the pot like trying to bake a trail pizza, simmering, or when cooking less watery meals where burning is more likely to occur than with aluminum pots. Aluminum pots conduct heat across the pot surface more evenly and distribute the heat better, while still being pretty light, and cheaper. In the end the best material to choose comes down to budget and personal preference / style.

Optional Items
Once you've settled on a pot, a mug (or pot that can also be used in this regard), and your utensil of choice about the only thing left to consider might be a plate or bowl of some type. If you're making freeze dried meals no plate will be needed as you'll be eating right out of the bag, and if you're solo eating out of the pot or eating freezer bag style will certainly save you the weight and extra cleanup of bringing a dedicated solution here. Lids of larger pots can be used, and mugs can perform double duty, but if a dedicated plate or bowl is still needed various solutions like the popular Fozzils Bowls are worth a look, and other options include this Snow Peak titanium option. This category is a bit of a luxury however, so it pays to go as light as you can or accomplish this task with your other cookware if possible and if weight is a concern.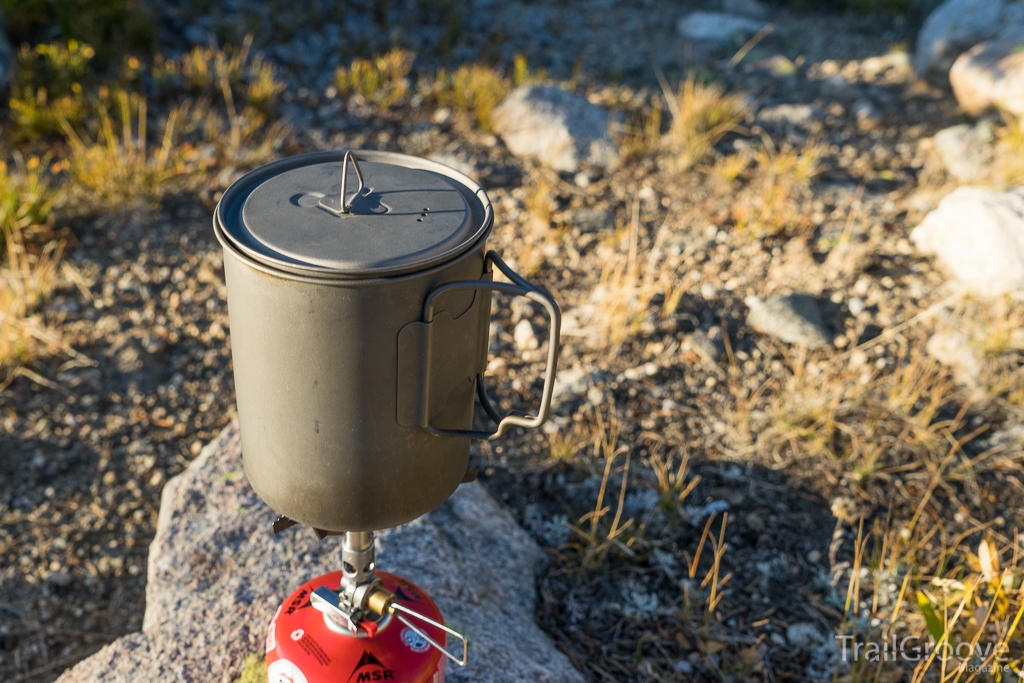 Whether you end up with an ultralight titanium mug / pot combo for the lightest trail weight or an anodized aluminum all around cookpot sure to be great the next time you need to sauté a side dish in camp, much like a good down sleeping bag camp cookware is one area where it does makes sense to invest. Of all the things I pack on backpacking trips and while a lot of gear changes over time, I still often pack the same titanium pot and mug that I've been using for over a decade.
For a list of backpacking cookware that you can sort and filter by many of the options we've discussed above, take a look at this page at REI.
1