3 Season Backpacking Clothing List and Strategy
---
A clothing system for backpacking needs to be as lightweight as possible while still performing a variety of critical tasks in an ever-changing and varied wilderness environment. A clothing system must be comfortable, will act as our first line of defense to keep us warm, and should protect us from the sun, precipitation, biting insects, and bumps and scrapes on the trail to name a few concerns. While each of these tasks are easily obtainable with dedicated and specialized items of clothing, when it comes to backpacking a clothing system is best composed of more generalized items. These items should all work together as a system using layers under different circumstances – a system where weight is reduced and efficiency is obtained via a sum of its parts. In this post we'll look at clothing systems and a list that works well for most 3-season conditions a hiker and backpacker will face, and for the organizational purposes of this post, we'll start with headwear and work our way down to the socks.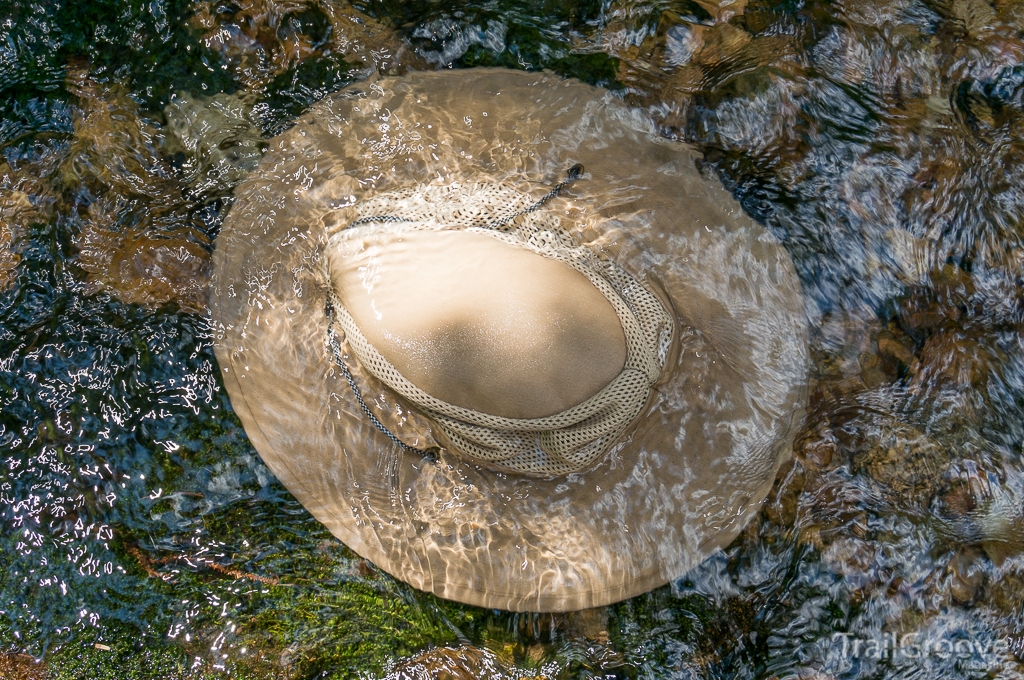 Headwear
A hat is one area where a one-size-fits-all-situations solution may be hard to come by. For hiking during the day sun protection is key, and nothing will beat a wide-brimmed hat. The wide-brimmed hat offers little compatibility with the hood of your rain jacket during rainy weather however, and a baseball style hat actually works very well with hoods to help keep the hood in place and out of your face. The solution comes down to personal preference; frequently if a trip is forecasted for fair weather I'll opt for a wide-brimmed hat, and if the forecast calls for clouds and frequent rain, I'll go with a hat of the baseball variety – sun protection can still be obtained here by combining the hat with something like a buff, bandanna, or hooded shirt – but this configuration will not make its own shade like a wide-brimmed hat.
Either way, this during-the-day choice should be paired with a beanie type hat, and I prefer something of the fleece variety here, but many other options are popular ranging from wool to down. Whichever way to go, this piece should be warm and if it blocks the wind, either through the use of dense outer fabrics or through use of a wind block fleece, a warm hat will go a long way towards keeping you warm in camp, while sleeping, and during cold morning starts on the trail. During mosquito season throw in a headnet as well – but find much more on dealing with biting insects here.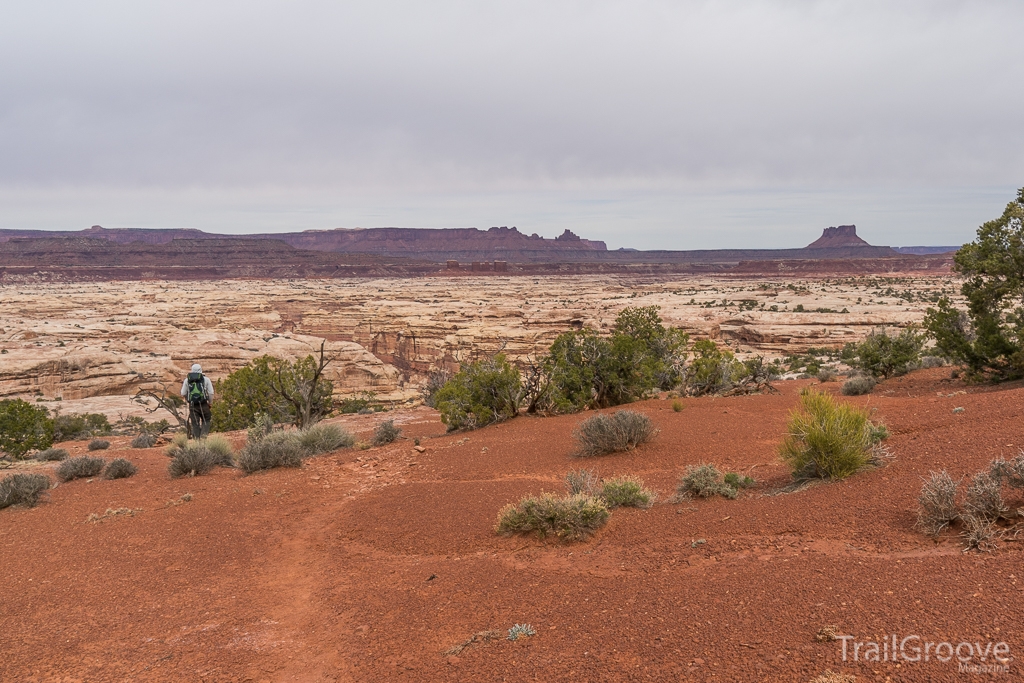 Upper Body
I take this beyond a 3-layer layering system, but only slightly. I find that an additional shirt adds versatility, comfort, and total system warmth – I start with a simple short sleeve 100% synthetic shirt and haven't found anything that fits better, dries faster, or is more comfortable than our own TrailGroove Performance Shirt. However, while comfortable a short sleeve shirt offers limited protection against the sun or mosquitoes (requiring extra sunscreen or bug repellent), or crisp and chilly mornings. Thus – and this is one of the most versatile clothing items out there – I add in a lightweight, long sleeve, zip neck shirt as can be found with REI's Lightweight Tech Tee, and I've had good success with Patagonia's Lightweight Capilene Line as well. The higher neck offers additional warmth, but you can vent as needed on the fly with the zip-neck front while the longer sleeves also offer sun and bug protection, warmth, and can be pushed up for those uphill sections when you start to warm up. With such versatility, if I'm not wearing it – this is an item at the top of my pack that I can reach for quickly. If preferred, a button-up style collared shirt can also work well here. This layer can – as long as you're content wearing a long sleeve shirt all the time as your primary layer – replace the short sleeve option if desired. While I prefer synthetics, merino wool is another option for both parts of the system listed above. Wool offers an additional benefit of keeping the hiker stink down on those longer trips, and is generally more expensive. Either way, it's best to avoid cotton clothing items all around, save for specific hot and dry weather hiking situations where you can get away with mixing some in. Don't overlook color choices as well which can help you stay cool or warm as needed and more – for much more on that factor take a look at this article.
Any upper body clothing system isn't complete without a jacket, and for 3 season use, combined with the additional layering options that a complete system will offer, we don't need to go overboard with something too warm – and too heavy. Lightweight down jackets are very popular both on the trail and at any local, trendy coffee shop in cool weather, and are a good choice for the mountain west where predominantly dry, low humidity conditions will be encountered. Just like down sleeping bags these jackets will offer excellent warmth for their weight. Synthetic-fill or fleece jackets are another option and are especially suited for wetter conditions and more humid and rainy locales; fleece is an especially good option if you wish to utilize this piece while actually hiking, but a fleece will need to be paired with another, wind blocking layer any time wind is a factor. A good weight target for a 3-season jacket is under a pound, and around 10 ounces will put you on the lighter end the scale while still offering adequate 3-season warmth when layered. A hood here is optional – but I find the weight penalty well worth it for the extra warmth a hood provides.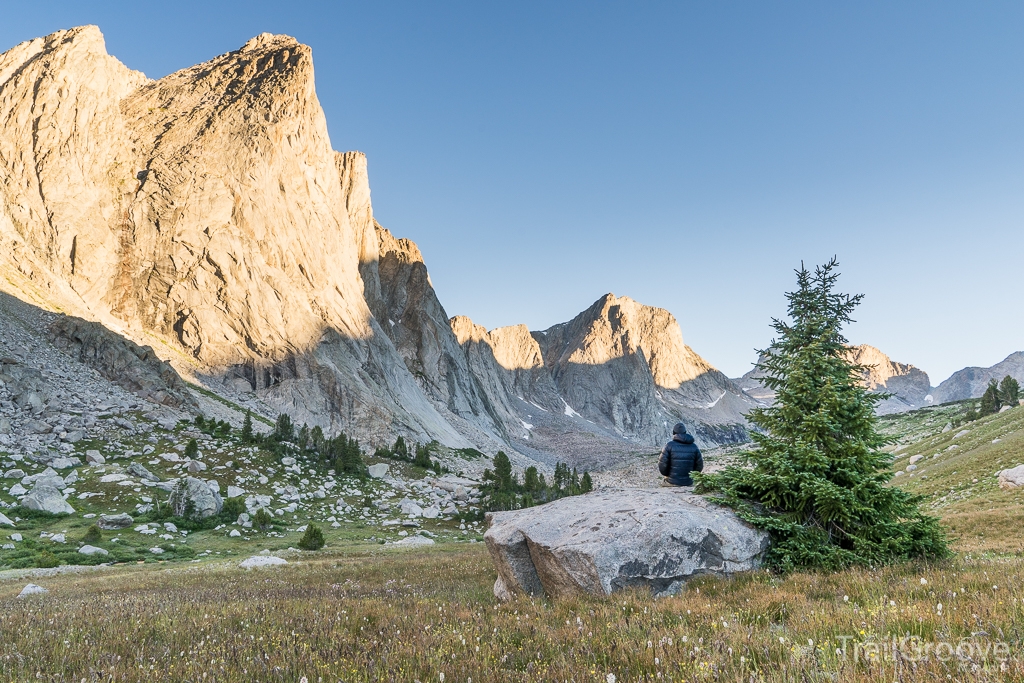 You likely won't need or use your jacket during the day while on the trail, but it will be welcomed at the end of the day, for adding warmth in your sleeping bag at night, and while sipping coffee first thing on a frosty morning. Some examples of insulated jackets can be found in the Mountain Hardwear Ghost Whisperer and the REI Magma Jacket. Slightly heavier warmer options include the Montbell Mirage, more expandable across other seasons or for those that run colder.

Lower Body
Preferences for your legs will vary – from shorts, to pants, to convertible pants, to skirts and even kilts. Anything that's not full coverage is best reserved for fair weather on-trail hiking – talus, brush, briers, etc. can quickly wreak havoc on an unprotected hiker's legs, and will force you to use copious amounts of insect repellent during bug season. My preference is for long pants that protect against those mosquitoes, can be tucked into your socks for tick prone areas, and offer substantial protection when offtrail or for the occasional slip on the trail. Currently, I use the Zion pants from Prana – and I prefer the convertible option. I actually rarely hike with them in "shorts mode", but with convertible pants that option always exists and I mainly use the leg zippers as well placed vents in hot weather. By unzipping the zippers on these convertible pants about halfway, your legs are ventilated with each step forward, while still being protected from the elements.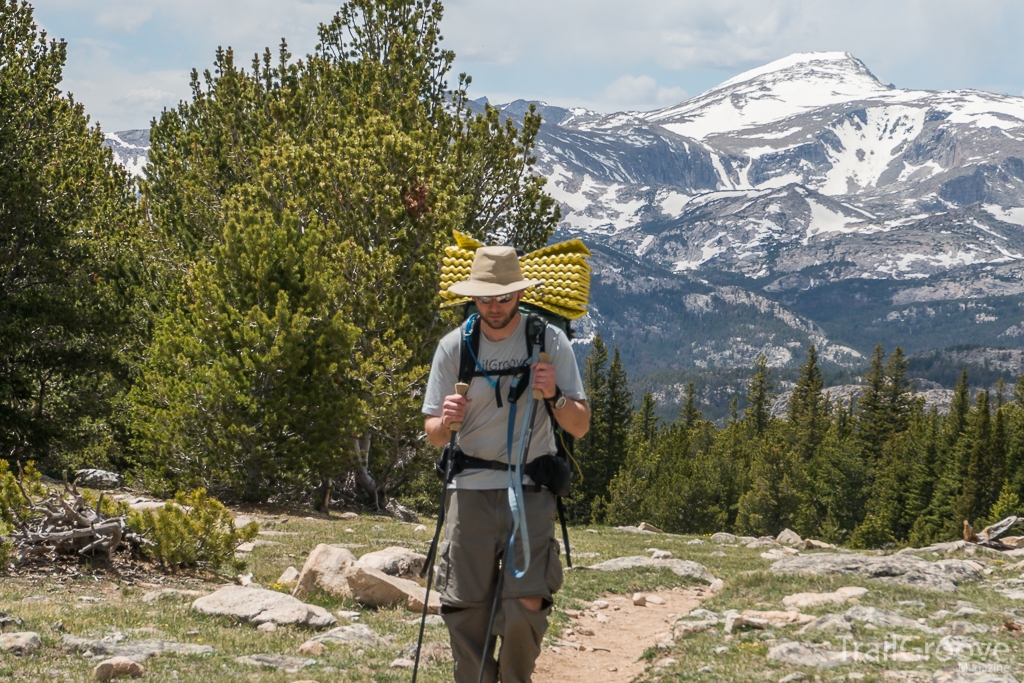 A thin pair of thermal type synthetic or wool pants will add additional warmth on chilly trips and will be welcome on cold nights and mornings – something like a lightweight Capilene option is perfect here and will really add some warmth when layered under hiking pants. This is an optional item for me though, and will stay behind on mid-summer trips to save pack weight.
Whether lower or upper body, underwear may be getting into a bit of a sensitive issue – with comfort being key, adequate support where needed, and something that quickly dries making up the most important factors. While you don't need spare shirts and pants and a change of clothes on the trail, an extra pair can without a doubt be nice to bring here for a rotation.

Socks and Gloves
A bit less sensitive but just as personal, socks and gloves round out the package and perhaps most of all, socks will be critical to enjoying any hike. A good sock really can make all the difference – as a personal example if I go with a synthetic sock I'll likely get a blister on every trip; since switching to merino wool socks I haven't had a blister...in years. Thus, while I'm primarily a synthetic guy for most of my other clothing choices (save the down jacket), I'm in the pro wool camp when it comes to socks; merino wool is less abrasive, dries in a respectable and adequate time, and maintains comfort for your feet across many conditions from hot and dry to cold and wet weather. While I take few spare clothes in any other category, you will want at least two pairs of your favorite hiking socks here at a minimum, and I usually take 3 so I always have a dry pair to sleep in. When one pair gets soaked, hang them on the outside of your pack so they'll dry during the day, and rotate as needed. My preference are socks from Darn Tough, and I usually go for the Light Hiker or Comfort Hiker versions. Fit is key and different brands fit different people differently, so try as many as you can until you find the right option for you. Height depends on your preference and mostly shoe choice – for more, check out our article on footwear selection.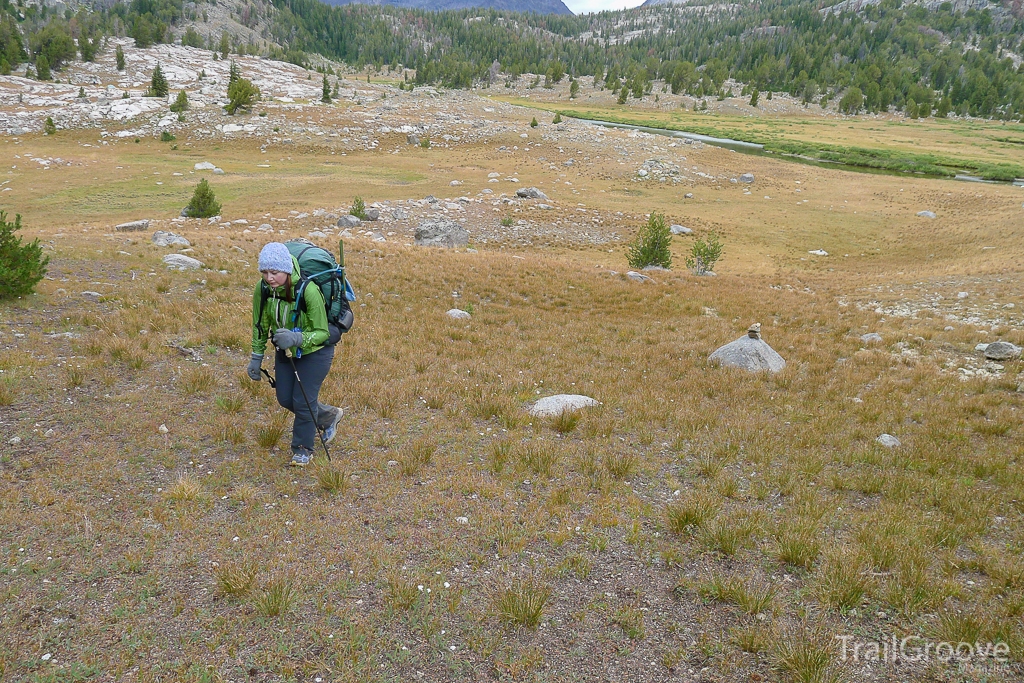 Any light pair of gloves will be suitable for 3 season use and selection here is not as important as something like a good sock that's subject to constant motion in your shoe and a heavy duty, insulated, waterproof glove is not needed – just a pair of lightweight liner gloves or mittens made from wool, synthetics / fleece are perfect to take the edge off when a cold front rolls through on an early fall day. For more warmth and to shield your digits from wind and precipitation use your liner gloves with a waterproof rain mitt – more on that in the next section.
 
Rain Gear
Rain gear completes out the package, and things can get complicated quickly when it's comes to waterproofing and breathability ratings; as both of those metrics go up together often so will the price. The 3 important factors here are something that's waterproof, lightweight, and offers some breathability at whatever price point you choose. Many high-end options exist at the lightest weights like the Helium II from Outdoor Research and many others. At a mid-range and mid-weight price point, the Marmot Precip series is hard to beat. And at somewhat of a bargain, check out the various Frogg Toggs options, although durability may not be a selling point here. Staying dry is the most important issue at hand here, and while items like a parka will work, for layering purposes and the most coverage I find that a separate rain jacket and rain pants work best. With many heavy-duty options out there this is an easy category to go too heavy, but an equally good category to save pack weight. Around 20 ounces or so for a rain jacket and pants combination is a respectable target, with around 12 ounces total being in more of an ultralight range. A pair of rain mitts – I use the MLD eVent offering – will keep hands warm during chilly rainy days.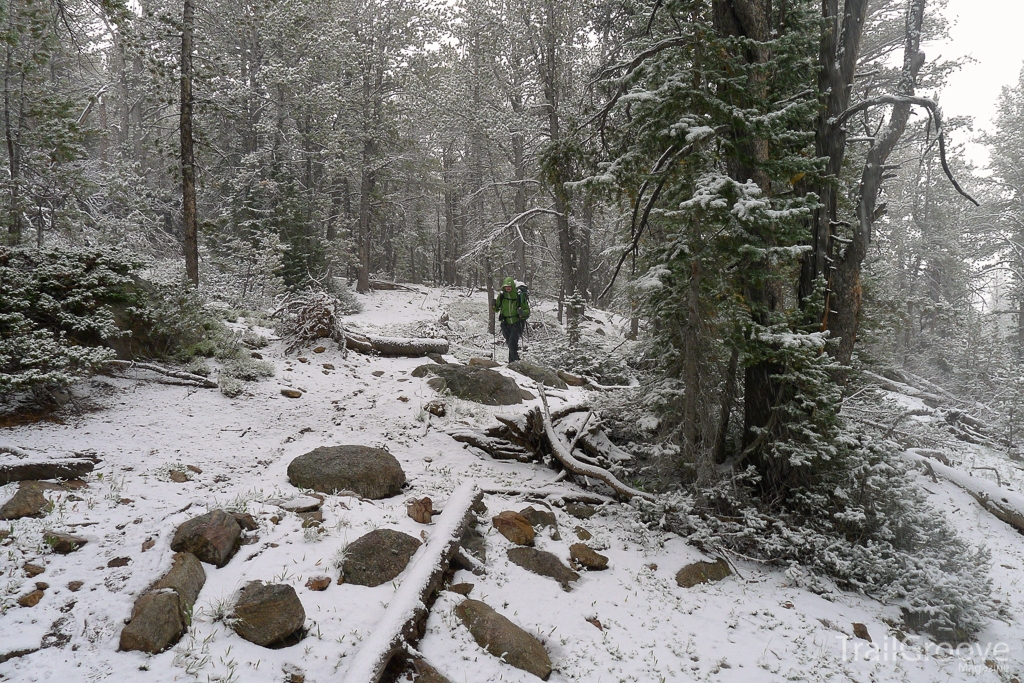 Don't forget that rain gear isn't just for rain: you can don your rain gear to block the wind, protect against mosquitoes, and to add warmth as an outer layer anytime it's needed and even in your sleeping bag at night for more warmth, so be sure to size appropriately so you can layer underneath. Keep your rain gear in an outer pocket of your pack for easy access during the day when a shower rolls through, or when you just want to use your rain jacket for the wind on a lunch break. The rest of my clothes not worn are stored in a waterproof stuff sack like a Sea to Summit Ultrasil dry bag or the multi-use Exped Schnozzel.
 
My 3 Season Backpacking Clothing List:
Sun hat
Warm hat / beanie
Short Sleeve Shirt
Lightweight Long Sleeve Zip Neck
Light Down / Synthetic Jacket
2 Pair Underwear
Hiking Pants
Baselayer Bottoms (optional)
Liner Gloves
Rain Mitts
2-3 Pair Socks
Rain Jacket and Pants
Dry Bag (for anything not worn)

Typical 3 season conditions can involve everything from hiking in the heat of summer to light snow and in cool wet conditions – sometimes on the same trip – and in locales ranging from the desert to alpine tundra to a rain-drenched forest. Once dialed in, an adequate clothing system simply and quietly does its job on the trail across all of these conditions; so that we can relax and enjoy the wilderness ride no matter the sun, the rain, mosquitoes, or even a bit of snow around the shoulder seasons…or wherever the next trip may take us.