The Backcountry Backpack: Choices and Considerations
---
No matter your approach to backpacking – ultralight, comfort light, traditional, or whatever our own unique approaches may be in the gear department, backpacking in and of itself goes hand in hand with a gear list (whether on paper or simply in our heads), making a way to carry all that stuff one of the most important gear related items we need to consider. What follows is a guide to selecting an appropriate backpack for hiking and backpacking, including an overview of features, technologies, materials, and other considerations that are needed when it comes to selecting the best backpacking and hiking backpack.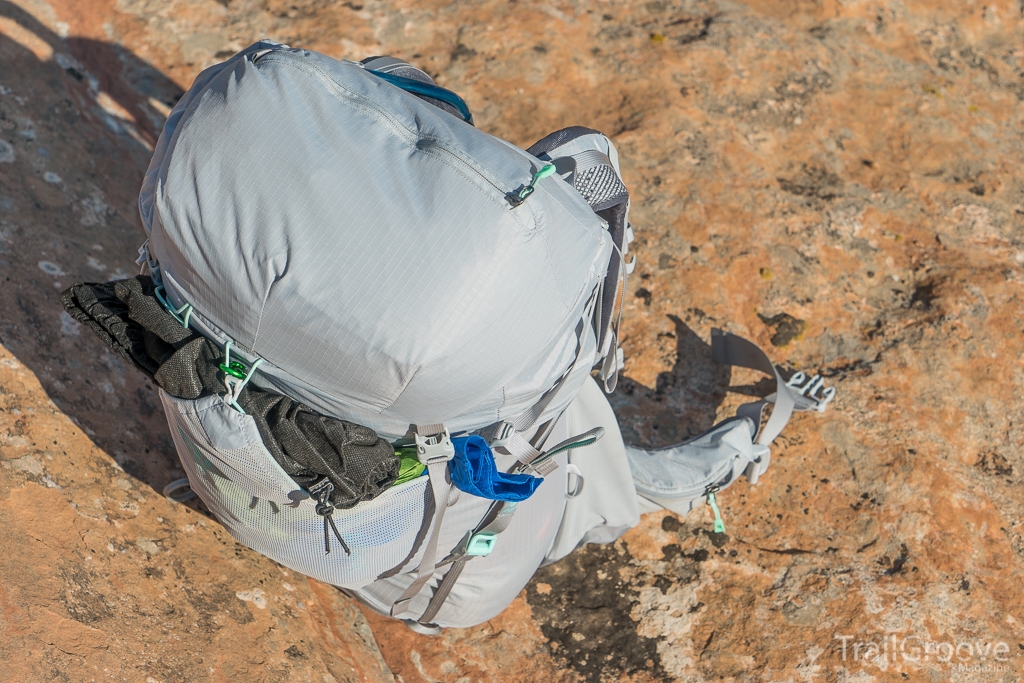 The Backpack Frame
As soon as you start to carry more than 15-20lbs on a trip (including food and water), which is the case for the great majority of backpackers with a full pack, a pack with a frame should be selected to help transfer the weight of the pack off your shoulders and on to your hips. While in years past the great debate was internal frame backpacks vs. those with external frames, the majority of choices on the market today will feature an internal frame. On the flip side externally framed packs are now available with cutting edge materials and designs that are significantly lighter than the traditional heavy and tubular external framed packs of days past, so with packs breaking out of the mold in many cases, I like to focus more on the other specifications of a pack rather than agonizing over the internal vs. external backpack frame debate. As long as it has a frame – commonly made of aluminum, carbon fiber, or a high density plastic sheet – other specifications such as maximum weight carrying capacity, materials used, comfort, and organization are most important to me.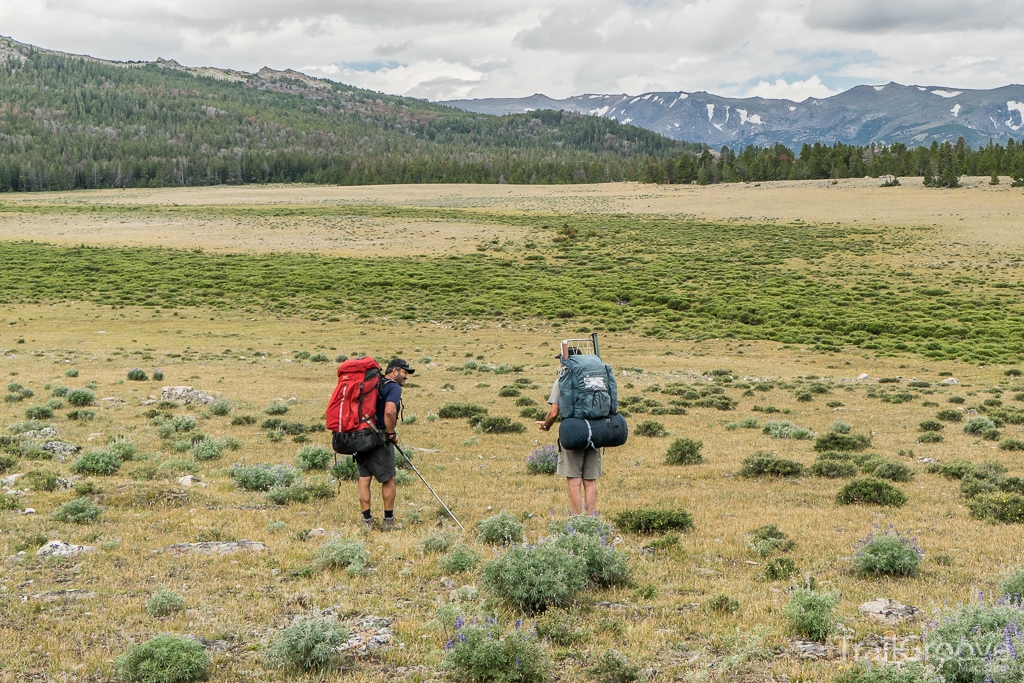 Many frameless backpacking packs exist and are more specialized in nature, suitable for ultralight loads and as such usually most appropriate for shorter duration trips where less food will have to be carried and in areas where water sources are frequent. With careful packing however these ultralight frameless packs can still be used if you're very diligent about how much weight you'll be carrying and especially if you are concerned about having the lightest possible total packweight. However, their use is limited and I find it more feasible to utilize a framed pack on short trips where I might be carrying an extra pound of pack or so, rather than trying to deal with the limited weight carrying capacity of a frameless pack (and often limited storage capacity) on a longer trip. Some frameless packs will even omit a hipbelt to save more weight, but even on a frameless pack I still prefer a hipbelt – while weight transfer to your hips will be limited without a frame, every little bit helps.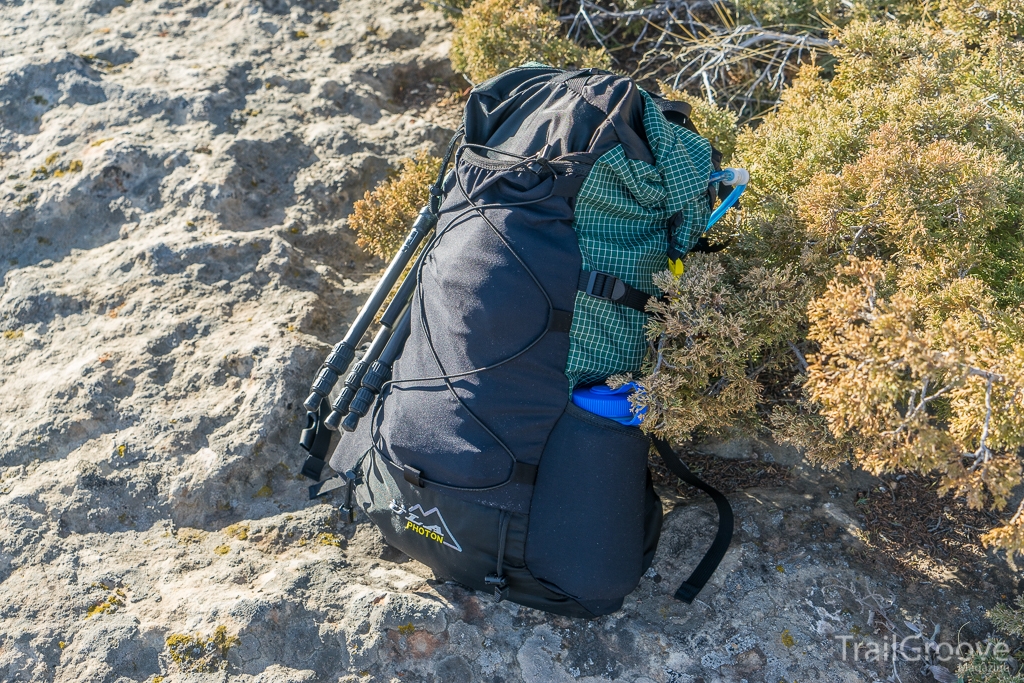 While frameless packs will always boast the best weights, often hovering around just 1lb, thankfully many lightweight framed packs are now available from many manufacturers. For most backpacking purposes a framed pack weighing 2-3lbs is a great range to target, and perhaps a bit more if you like to carry a heavier range of gear, food, or water – or all of the above. And like shoes, backpack fit and comfort is critical and this is where it pays to take some extra time measuring your torso and checking out the manufacturer's sizing guide, as framed packs are usually available in several sizes. Often each size will have a bit of adjustment built in, and will be provided by moving the hipbelt or shoulder strap attachment points in order to fine tune the fit.

Capacity
Expressed in cubic inches or liters, the most popular sizes for modern backpacking would be options in the 45 liter range (~2750 cubic inches) like the REI Flash 45 – quite appropriate for most weekend trips – and packs stepping up in size into the 60 liter range, which I find most appropriate for week long trips or so. Both sizes can be pushed a bit beyond these limits and depending on your other gear and packing style. Regardless, there will be times when a 45 liter is a bit too small or a 60 liter a bit too large, but it comes down to a personal decision and how your trips typically take place; some us are weekend warriors with others tending to head out only on longer trips. The other strategy is collecting multiple packs and picking from your collection depending on the trip at hand. For me, I like one pack that can do it all just to keep it simple (and cheaper), with my 4200 cubic inch (this includes all storage – not just the main compartment) ULA Circuit serving as my workhorse backpacking pack for all trips. With around 10 days the longest I will go at a stretch (this is about as much food as I prefer to carry at once), the pack will be at its limits early in the trip, but is perfect after a few days. For overnights or weekends in the summer where gear is minimal, my jack of all trades pack will have some extra space, but I will just allow my down bag to loft up inside and it's always better to be in a situation where your pack is suited to carry more weight than you actually are carrying than the other way around.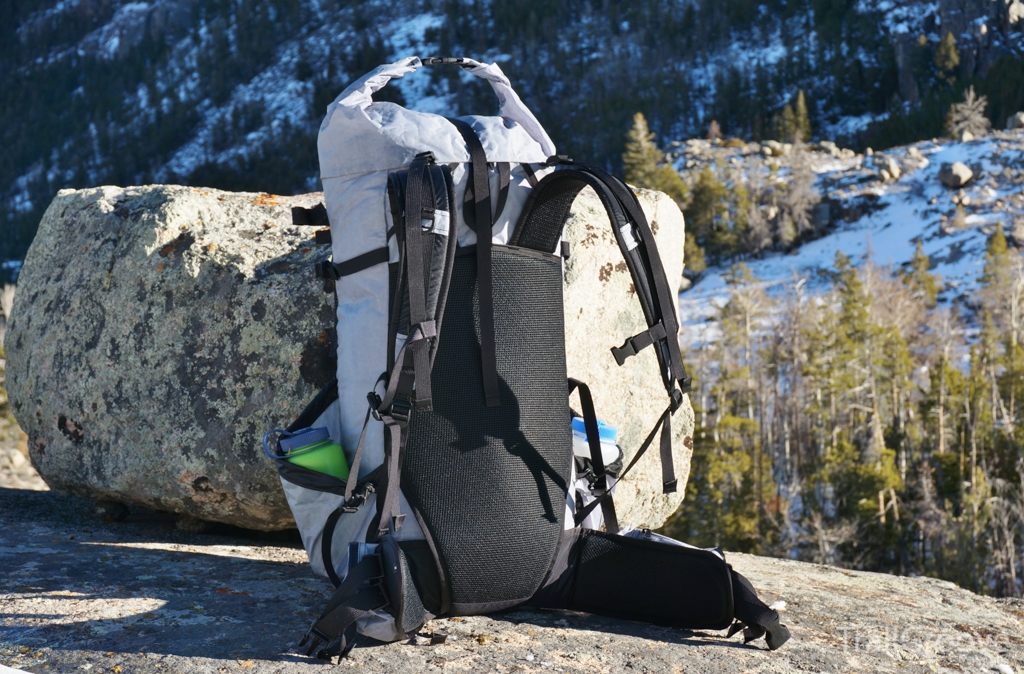 The other capacity consideration is in regards to weight. Backpacks with a beefier frame and more sturdy hipbelts will allow you to carry more weight comfortably, but as we increase in weight capacity the weight of the actual backpack itself increases as well, forcing a balance to be struck. Again here we need to evaluate the length of our typical backpacking trip and normal proximity to water sources (water is heavy). One pack will not be perfectly suited for every condition. Whether you are just starting your collection of backpacking gear or are looking to upgrade an existing pack, this is also the time where it pays to evaluate all the rest of your backpacking gear, weigh it, and figure out how much food and water you'll also usually be carrying before buying the pack itself. My preference again is to go with a pack that is suitable for carrying the full weight of all my gear, the full weight of my food even on day 1 of most trips, and all that combined with all the water I'll be carrying. Sure, the occasional longest of trips might be a little heavy on my shoulders until I eat a day of food, but 95% of the time the pack will be near perfect. A little math at home here will pay off later on the trail. 

Features and Organization
25 years ago – when you'd find inspirational, beautiful brochures detailing a popular manufacturer's complete line of external framed packs along with the latest Campmor catalog in your mailbox, packs seemingly had a compartment or pocket for everything. Dedicated sleeping bag compartment. Swiss Army knife pocket. Zippered storage for your MSR white gas fuel bottle. The list goes on. While organization is a key component to finding what you need quickly on the trail, there's no reason to go overboard, or under when choosing a backpack. I like the big 4: Main storage compartment, outside pocket or storage, hipbelt pockets, and dual side water bottle pockets. I've found this arrangement to be the best balance for me on the trail, and I then utilize further lightweight stuffsacks if additional organization is needed – rather than just throwing the complete contents of my first aid kit randomly in the main compartment of the pack for example.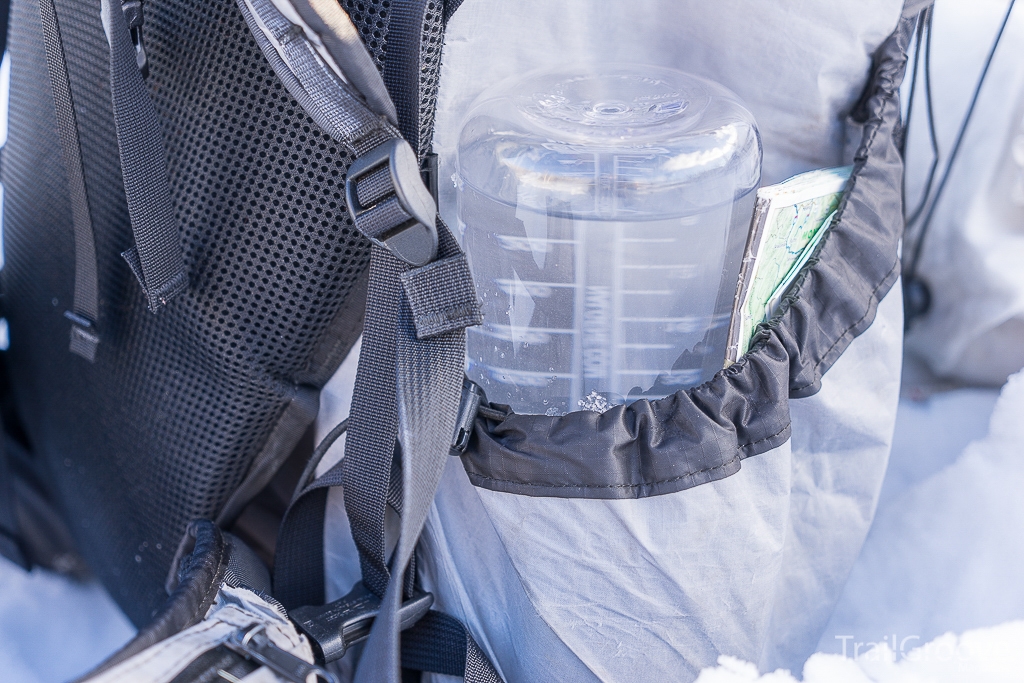 With this arrangement you are able to pack anything you'll need only at camp inside the main compartment (sleeping bag, sleeping pad, etc.), pack anything you might need immediately at hand during the day in the outside pocket of the pack like rain gear – this pocket can be in the form of a lid or pocket on the rear of the backpack. You'll also have easy access to small frequently used items, or emergency items in your hipbelt and side water bottle pockets – things like a small camera, snacks, whistle, and water bottles themselves – all without having to take your pack off. 
Additional attachment points are always nice to have on longer trips or for those times you might be carrying extra gear. This ability can come in many forms – bungee systems on the outside of the pack, ice axe loops, etc., with the main concern here being their existence without getting in the way or adding too much weight to the pack. Often, normal closure or compression straps can also be utilized to hold items you might want to secure to the outside of your pack like a bulky foam sleeping pad.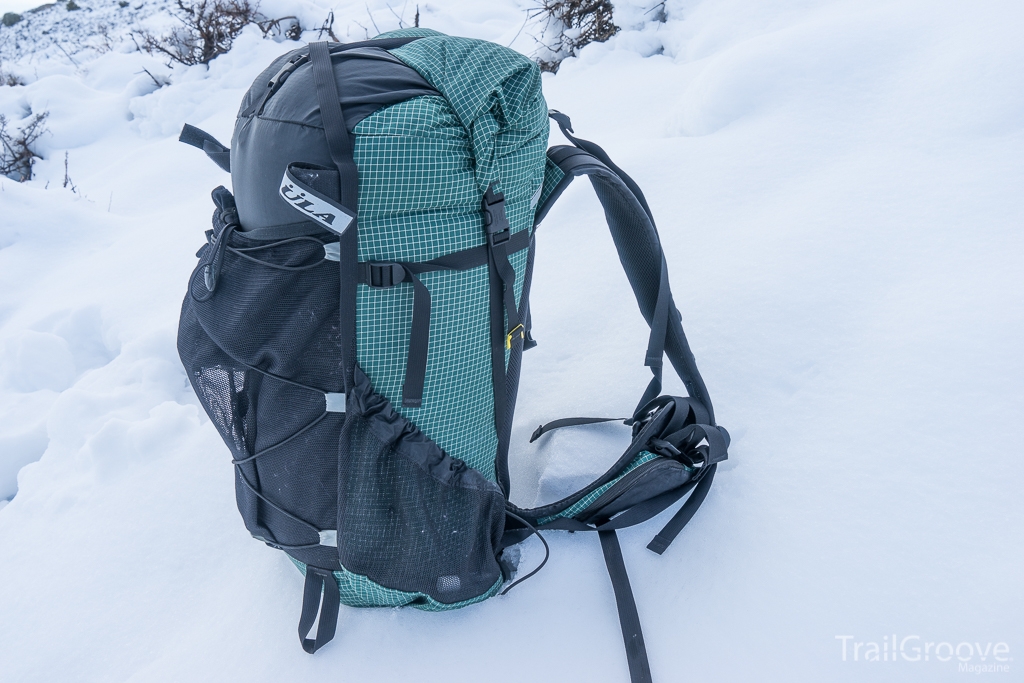 Top loading packs feature a large opening on top of the pack – either a roll top design which work well for compression and water resistance, or with a drawstring closure often covered by a "lid" or "brain" with a pocket. Panel loading packs, which operate a bit like a suitcase with long zippers, are also available if you feel you prefer easy access to all of your gear at once. 
Although it may go without saying, other features such as a sternum strap, load lifters for framed packs to pull the load closer to your center of gravity and move more weight off your shoulders, a comfortable hipbelt, and features like a padded backpanel are all things to check off the list. Other features such as ventilated backpanels, hydration sleeves and ports, or trekking pole holders for example should be sought after on a preferential basis.

Materials
Protecting the rest of your gear contained within, other than shoes and trekking pole tips backpacks face one of the roughest existences on the trail of all the gear we carry. However, going over-durable here can lead to an overly heavy pack, but we still need something that can withstand being dropped on the ground and rocks repeatedly, leaned against scraggly trees, and contact with brush and boulders without having to constantly repair or replace our pack. Often the simple eye test can give an indication of just how durable all the various fabrics utilized for backpacks may be. Silnylon and standard Cuben / Dyneema Composite Fabrics result in the lightest of backpacks, but are not particularly durable fabrics in regards to abrasion resistance.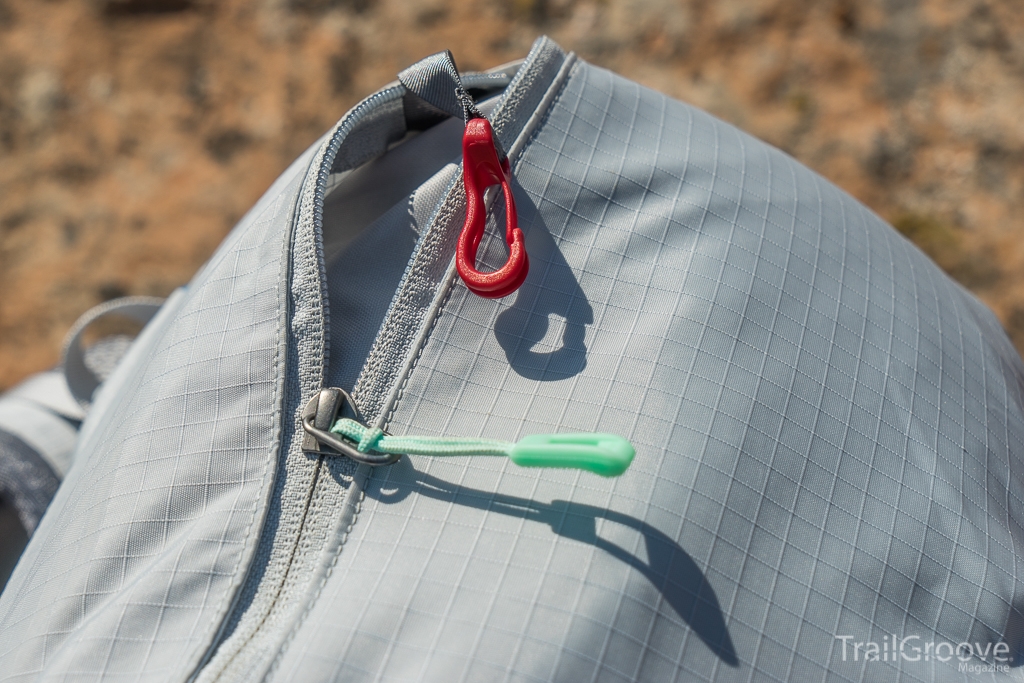 A water resistant ripstop nylon pack fabric
A hybrid Dyneema fabric is also available, featuring a polyester face fabric for increased abrasion resistance while still taking advantage of the waterproofness and strength of the base Dyneema material. (Seams may however, not be sealed or taped in any water resistant pack) Heavier duty ripstop nylons and Dyneema gridstop are more popular fabrics and offer a great balance of weight and durability. The latter two options frequently feature a PU coating for waterproofing, which will degrade over time – no matter the case one should always further waterproof their critical gear by way of waterproof stuff sacks, or by using a pack liner of some type – usually just a larger version of a waterproof stuff sack or a trash compactor bag. In all cases, if the bottom of the pack is reinforced with a double layer or heavier duty material this is always a bonus, with this location being the most susceptible to abrasion and wear.


Thankfully, as a required item for backpacking there are no shortage of lightweight, framed, frameless, heavy duty, ultralight, top loading, panel loading, and men's or women's backpacks – or various combinations of these designs  – on the market today. No matter your take and approach on the subject, the best backpack might be the one that you end up thinking about the least while on the trail; one that carries all your gear across the various intended situations with ease, all the while without weighing you down and one that is sufficiently durable to last for countless backcountry adventures.

For a current list of backpacks that you can filter and sort by many of the features we've discussed in this post, see this page at REI.com.