Altra Lone Peak 4 RSM Mid Waterproof Boot Review
---
The Lone Peak series of trail running shoes from Altra are a popular shoe choice in lightweight backpacking and hiking circles, mainly due to the comfort of the Lone Peak platform combined with a decent outsole and rock protection. Comfort is achieved via Altra's foot-shaped toebox, the light weight of the shoe, and its zero drop midsole for a natural gait. Combined with an aggressive outsole and rock protection we having the makings of a great summer long distance hiking shoe.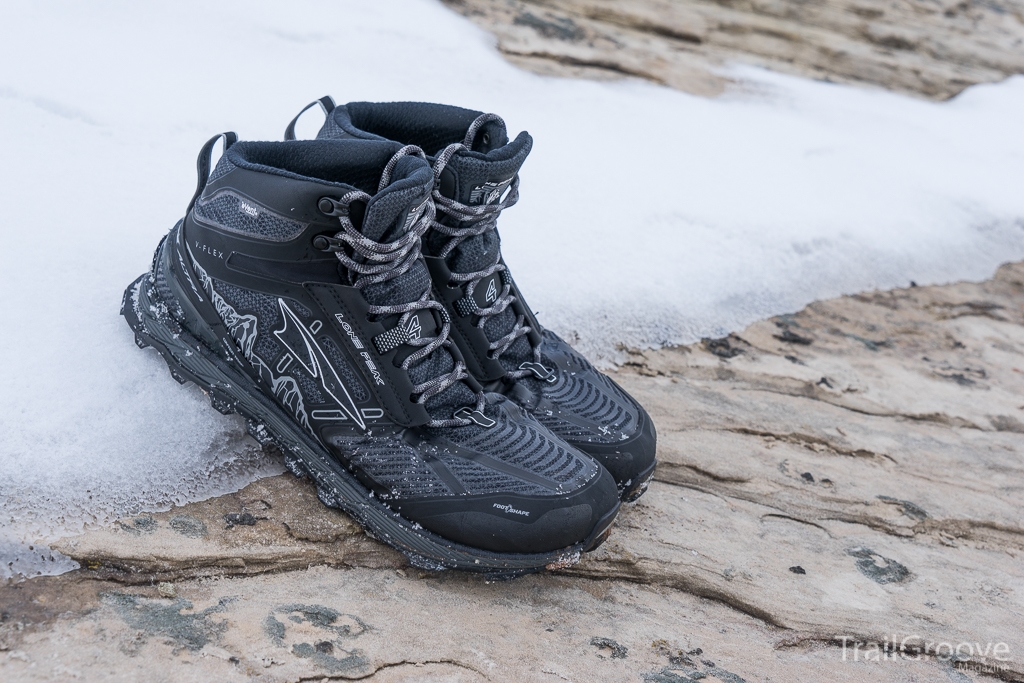 As an option for extending hikes into the shoulder seasons or winter and for those who want to keep all the aforementioned benefits of the Lone Peak, Altra previously offered a waterproof version (both in a low and a mid-height) in the form of the Altra Lone Peak NeoShell we've previously reviewed. Since then, Altra has switched to a waterproofing solution based on an eVent membrane and the current waterproof Lone Peak, based on the Lone Peak 4, is offered in the form of the Lone Peak 4 RSM (Rain, Snow, Mud) that is available either as a low trail running shoe or in the form of a mid-height boot as reviewed here.
The first thing I do with any waterproof shoe or boot is give it a test just to see how waterproof it really is, and the RSM was no exception. The RSM did exhibit some initial leaks in several areas and especially through stitching around the lower lacing area (still below the gusset) and the overall waterproofing does get worse with wear. Thus in terms of being water resistant the RSM is not as waterproof as a typical mid-height boot you might run across that uses a sealed inner Gore-Tex or eVent bootie – on the RSM, Altra is still utilizing the waterproofing layer as the upper material of the shoe similar to the older NeoShell. This exposes the waterproofing layer directly to abrasion, although this layer has face fabric offering a level of durability combined with a lot of overlays. However, this design approach does appear to lead to challenges in creating a fully waterproof shoe. While not 100% waterproof, the shoe is still highly water resistant and an improvement over the previous NeoShell version. Breathability wise, the shoes seem to keep up with my feet in the conditions where I reach for a waterproof shoe. However for summer – and as I can definitely feel my feet starting to heat up in moderate temps with the RSM – I'll be sticking to the mesh Lone Peak.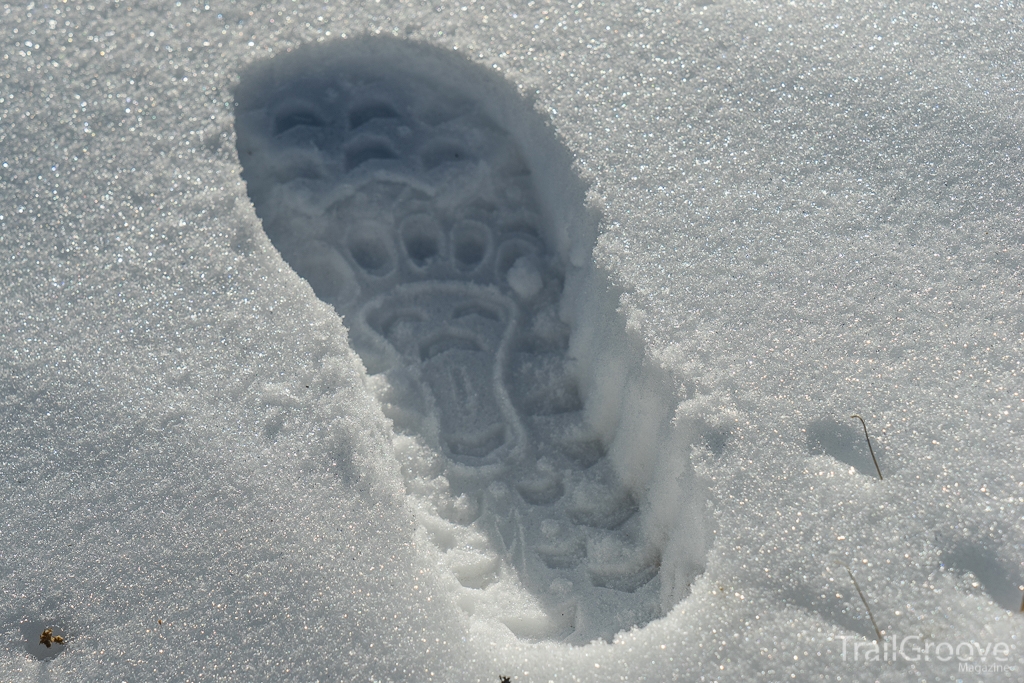 On the trail the Altra RSM is just as comfortable in those wetter and colder conditions underfoot as its mesh Lone Peak counterparts, and it's safe to say when it comes to a mid-height boot, it's the most comfortable I've ever worn. In wet conditions you can expect some water intrusion, but it's usually minimal. As an example on a recent backpacking trip in cold conditions through half a foot of snow (The boot has multiple gaiter attachment points for deeper snow) once at camp my socks were a bit damp in some areas (matching up to the previous waterproofing weak points), but it wasn't too bad – my socks were dry in other areas and were completely dry once I'd been in my sleeping bag for half an hour. One could potentially hit these boots with some seam-sealer in key areas as well if desired, which is something I initially considered but was never compelled to actually complete.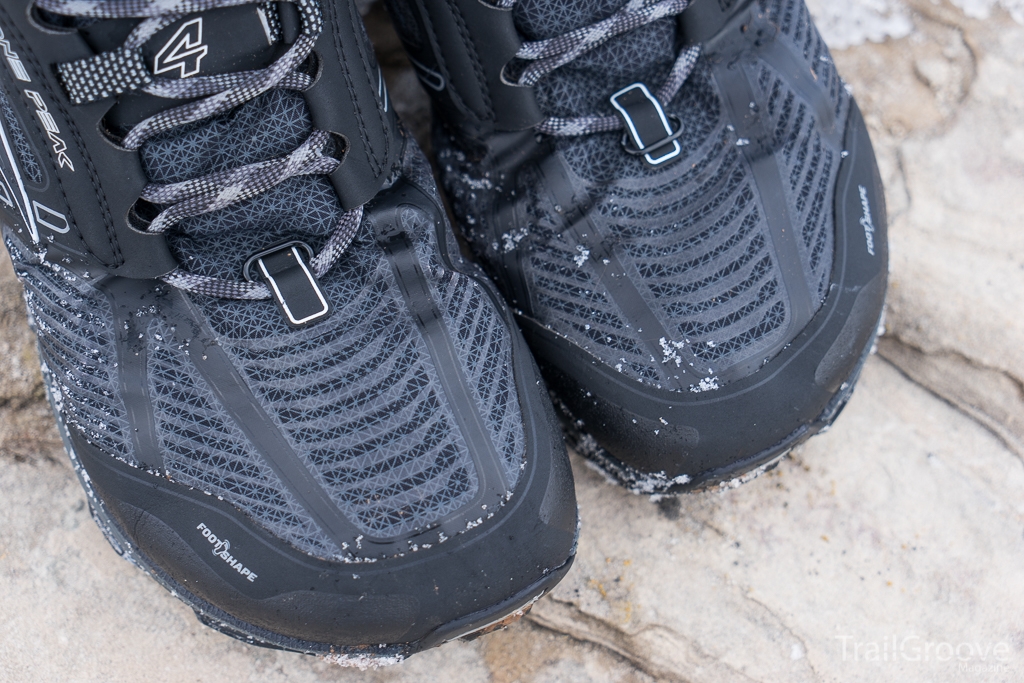 These are lightweight boots and even with thick socks, my feet do start to get a bit chilly once hiking temperatures reach the lower 30's. This usage range could be extended into lower temperatures with a VBL setup. One interesting design choice is that Altra is utilizing a metal lacing ring at the top of the boot: this requires you to fully untie and re-tie your boots every time you take them off or put them on. For this purpose I much prefer a metal speed lace hook, that way I can get the boots off without having to untie the laces if I want, and I can then slip the boots on loosely for walking around camp without having to retie the shoe or walking around with untied laces. It's just a faster and more convenient system.
Overall, the RSM does feature some improvements compared to previous waterproof versions of the Lone Peak, but as far as the RSM is concerned, it's still suited for a relatively narrow range of users and activities: namely those who love the zero-drop platform of the Lone Peak, and want a similar waterproof / resistant early or late season shoe…in conditions that aren't too hot, too cold, or too wet.
The Altra Lone Peak 4 RSM Mid retails for $160 – find it here at REI and on Amazon.com. The RSM is also available in a low cut trail running shoe version.