Backpacking Gear: Down vs. Synthetic Insulation
---
Before you begin to narrow down your choice of a sleeping bag or jacket for backpacking usage, there's one key decision you must arrive at first: the choice of down vs. synthetic insulation. The source of much debate, both options have mostly pros and a few cons. In this post we'll detail why you might choose one over the other and detail the performance of down and synthetic insulation across various backpacking situations.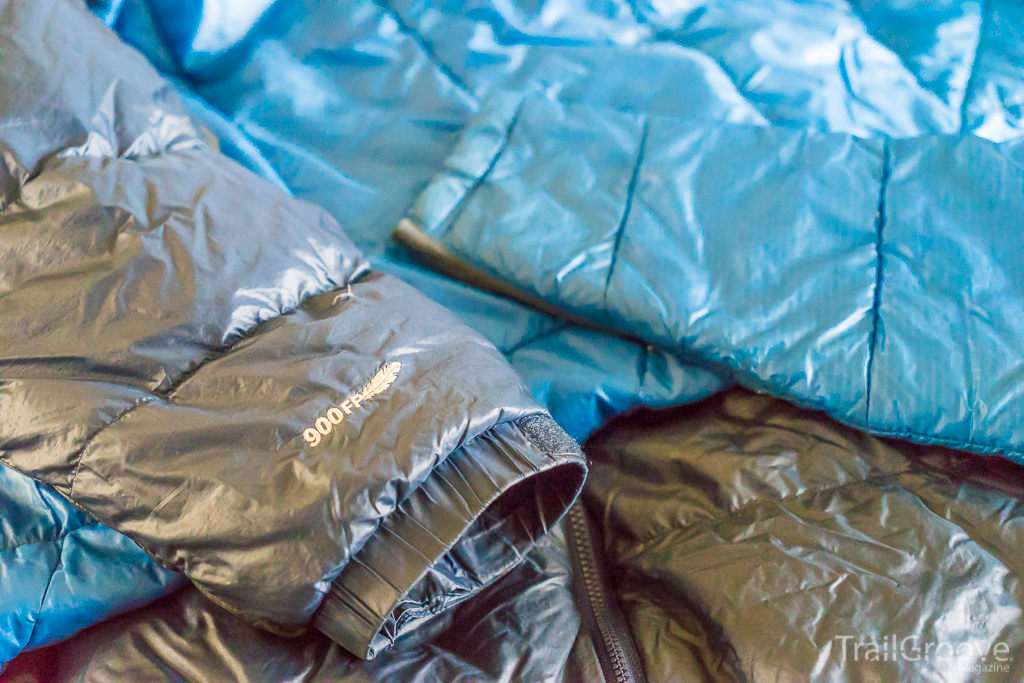 Down
The lightest and most compressible option, down insulation can either be goose down or duck down. Down insulation is rated by fill power (fp) – which is simply a measurement of how many cubic inches one ounce of down will fill. For non-backpacking usage this is non-consequential and lower rated fill power jackets could be utilized for example to save cash (the jacket will just be heavier), but when you're carrying everything on your back, this is a key number. Higher fill power gear is more expensive, with top of the line jackets and sleeping bags typically using somewhere around 900fp or so. At these higher fill power levels down will give you the lightest and most compressible insulated gear available, but at the most cost. With down you also need to be careful not to get it wet, but this goes for all your gear no matter what it's made from. However, when down does get completely soaked, it takes forever to dry and retains less warmth than synthetics. This can be mitigated by taking standard precautions to keep your gear dry and I've found this to mostly be a nuisance when I wash gear at home. That said, on backpacking trips where you are in constant, unrelenting rain day after day with near 100% humidity, your sleeping bag will not have a chance to dry during the day in your pack – and inevitably will absorb some level of moisture every night especially if there is condensation inside your tent. This can lead to degradation in warmth of the bag – without it being completely soaked – after several days.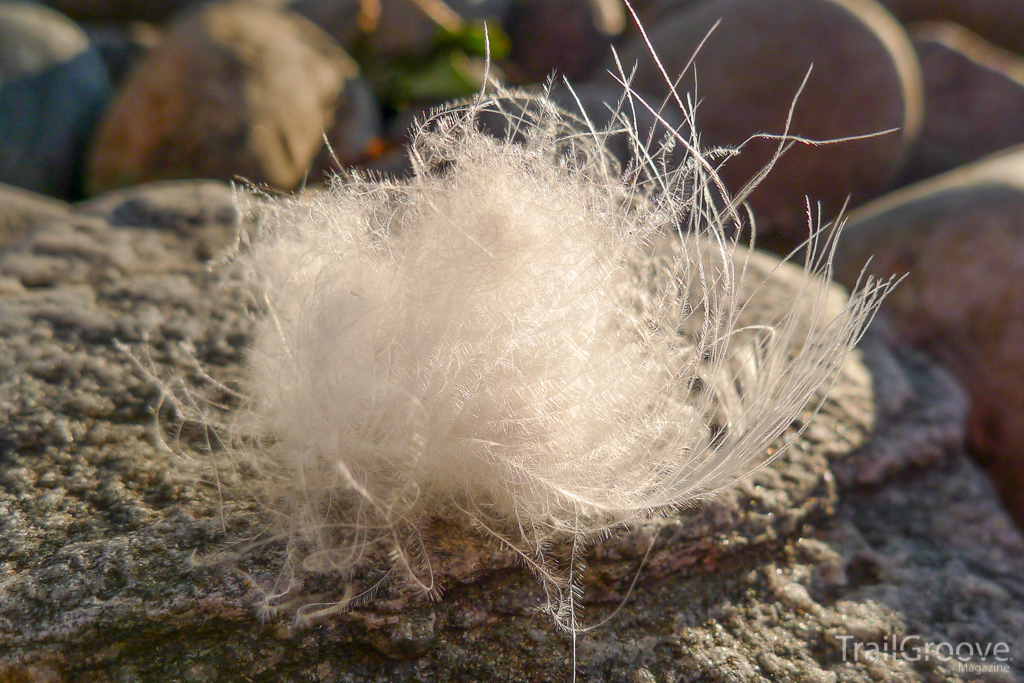 High fill power down cluster
Hoping to remedy the situation, chemically treated down has gained significant market traction in recent years – and treated down seeks to help with any potential doubts here by applying a Durable Water Repellent (DWR) treatment to the down itself. I have found that DWR treated down does not quite have the same type of loft (it's a bit clumpy) compared to high quality non-treated down. Additionally, the natural oils in down make it naturally water resistant. However, treated down does perform better in tests when it comes to its ability to resist water and may offer some additional peace of mind. Another thing to keep in mind is that (and this goes for down or synthetic) your jacket and / or sleeping bag shell fabric likely already has a DWR treatment and will resist light rain or condensation, for a period of time. Being one of the heaviest things you carry, a down sleeping bag is a great item to target to save weight.
Synthetic Insulation
Synthetic insulation comes in many forms and in many names, and while some perform better than others performance can still be described in general terms here. Synthetic insulation will be cheaper, but compared to high quality down – it doesn't pack up as small and will weigh more to provide the same level of warmth. In addition, longevity is a concern and synthetic insulation will not retain its loft over the years with many uses like a well-cared for down sleeping bag or garment will.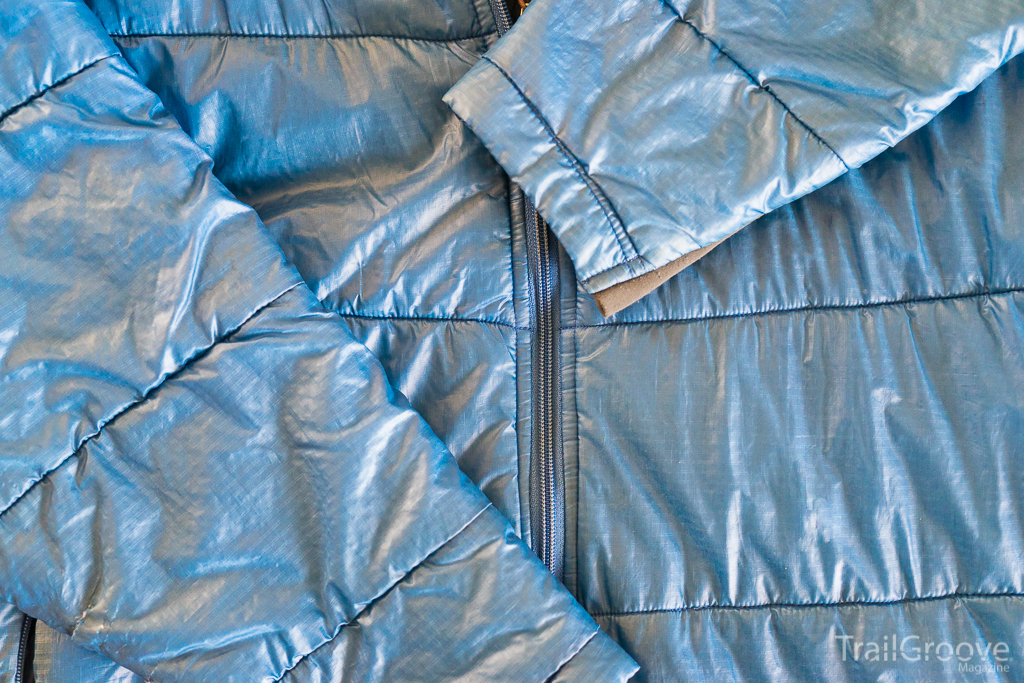 Synthetic insulated ultralight backpacking jacket
Synthetic insulation does retain more heat when it's wet as it will not completely collapse when soaked through, and it will dry faster than down…although sleeping in a soaked synthetic sleeping bag will still not be all that comfortable. When you take thick synthetic insulation and wrap it in a high denier nylon or polyester shell on both sides it can still take quite a while to totally dry – even days to dry for a sleeping bag or thick jacket (unless you find an opportunity to put it in the sun). However, it does perform better in consistently wet conditions and will often get you on the trail for less cash than top of the line down. Synthetic may be the better choice for those that are not looking to save weight and have plenty of room in their pack, or basecamp type backpacking. If you're one to wear an insulated jacket while actually hiking during the day (I never do this), synthetic will deal with sweat better, but best to take the jacket off before that happens no matter what insulation choice you go with. You'll want to take extra care of your synthetic insulation – as while longevity is good and getting better, synthetic gear can only stand so many compression and use cycles before the loft begins to degrade (a well-cared for down bag will last decades or more). A synthetic sleeping bag will cost the most weight difference when compared side by side to a high quality down bag, while with something like a synthetic insulated jacket the difference will be less.
Down sleeping bag
As a backpacker in the mountain west, my personal choice is to go all down – and I appreciate the weight that's saved, the investment over the long-term, and the extra space I get in my pack. I do take extra precautions to keep that gear dry – packing it all in a waterproof dry bag and then inside a highly water-resistant backpack. However, if your pack is more on the sort of waterproof side, a trash compactor bag used as a pack liner is a great way to provide additional protection from water. Trips where it starts to rain, and doesn't stop for several days, have been the only challenge to this system where the sleeping bag can start to absorb moisture during the night and from tent condensation and has no opportunity to dry – but this doesn't lead to a complete collapse of the bag. In this situation a 20 degree bag may turn into something more resembling a 30 degree bag until it can dry, and having the ability to toss a hot Nalgene in my Zpacks 20 degree sleeping bag is nice to have. On the trail, I certainly appreciate the lighter weight of down gear and the increased compressibility.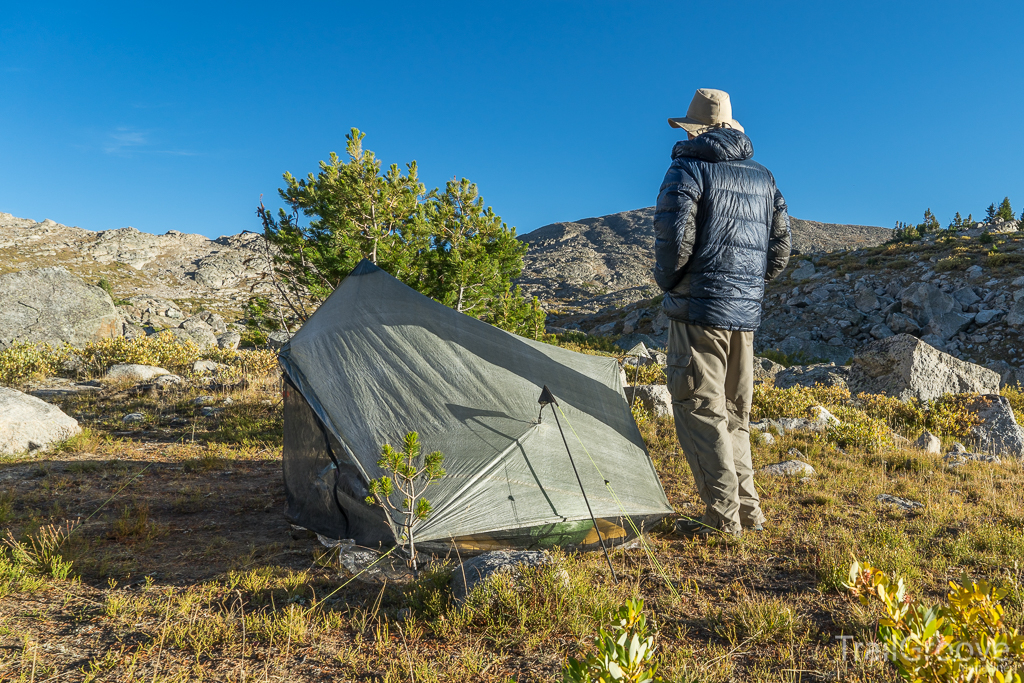 Medium weight down parka
That said, if I had a synthetic 30 degree bag and a down 30 degree bag and was planning to only pack in a few miles and setup a basecamp for several days, then hike out with a forecast calling for rain the entire time with lows in the 30's, I'd probably pack in the synthetic. Moving daily on a thru-hike or high mileage backpacking trip? I'd choose down. If you'll be hiking in an environment where moisture is frequently encountered for long periods of time, one strategy is to go for the down bag and combine that with a synthetic jacket or vice-versa. Down or synthetic, at home make sure to dry out your insulation gear after a trip and store it uncompressed, either hanging or stored very loosely in a breathable, large cotton storage bag and when needed, give it a good wash between seasons.
The best choice depends on your own backpacking style and the conditions you'll encounter, but whether you choose to go all down, all synthetic, or mix and match for the best of both worlds all 3 of these strategies are well-suited and workable when it comes to typical backpacking conditions. And frankly, if the gear itself is good enough – I'm not one to automatically rule something out because it's not down or not synthetic. In all cases, you want to take every effort to keep your sleeping and insulation gear from getting soaked and take care of it at home after the trip, and by doing so you'll be on a good track towards both having warm gear in camp and using your insulated gear on countless trips over the years.
You can find a full selection of insulated backpacking gear at REI. Down insulated jackets can be found here and you can shop down sleeping bags here. For synthetic you can view their selection of synthetic insulated jackets and synthetic sleeping bags.