Exped REM Pillow and Sea to Summit Aeros Review
---
The Exped REM Pillow
The Exped REM backpacking pillow is a newer pillow from Exped that's a hybrid air pillow with a layer of foam above. The REM foam layer (That's recycled extracted modules, not the band or the sleep you'll hopefully get) consists of chunks of soft foam that make this pillow a little closer to a non-backpacking pillow you might find at home. 
The foam layer is all contained in a soft pillow case, with an inflatable air chamber underneath than can be removed for washing or even if you wanted to use either piece on its own. The pillow is available in two sizes, but with the large at a listed weight nearing half a pound it's a little heavier than what I'd personally like to bring along on a legitimate backpacking trip. The medium, which I picked up, is listed at a more reasonable 5.3 ounces but still isn't too compact at around 15x10x5". Mine weighed a half ounce over this at 5.8 ounces. While pure air pillows are light, (such as the Exped Air Pillow UL - reviewed here) I'm all for carrying a little more weight if it makes for a better night's sleep. And after using the REM pillow over the summer I've found the extra weight to be worth it. 
Inflation and deflation is achieved via a single Exped flat valve by mouth or via something you might be using for your sleeping pad already like an Exped Schnozzel - and the level of inflation can be fine-tuned by briefly depressing the valve. To help with deflation you can insert the tab attached to the valve cover to hold the valve open. The baffled air chamber itself has a fair amount of give, and combined with the foam layer it's nice to not have to fully inflate the pillow for the necessary height and comfort. Between the air chamber, foam pieces, and the cloth case the entire pillow is also quite warm on cold nights. While I did notice some crinkle while testing the pillow out at home that I thought might be annoying, on the trail I have not found noise to be an issue.
One nice touch are the included loops on either side of the pillow, and using a length of shock cord and a cord lock I'm able to secure the pillow to my Synmat UL7 sleeping pad so that I don't lose it at night. Running the shock cord through both loops underneath the pillow allows you to slide it side to side, running the pillow along the cord, while still keeping the pillow from sliding off the top of your pad. This setup will add around half an ounce worth of materials. I'm also a fan of the rectangular shape. A lot of backpacking pillows have a contoured shape around the neck that I find myself fighting with all night - but obviously personal preference applies here and many may prefer this shape. In any event, between the loops, shape, and soft tricot cover this isn't a pillow I have to chase throughout the night. 
The pillow is designed to pack into its own pocket - but it's not exactly compact. Using my attached shock cord system I'm able to wrap the pillow up inside the shock cord and then compress the pillow a bit more than by the stock method, but it still packs much larger than the ultralight air pillows that are out there. Luckily, I always have enough pack space and just throw the pillow in with my sleeping bag. After around two weeks or so of use, I did find the foam seemed to have lost quite a bit of its resiliency. Removing the air chamber (It secures inside the cover using Velcro) and giving the case with the foam inside a quick wash brought the cushion back to life. Since the pillow is comprised of two parts - both of which could make for some type of pillow on their own - you could even use the separate parts of the REM to some extent if you really wanted to save some weight. 
Also of note from Exped is the also new for 2015 Exped Down Pillow, which is essentially the same design except using down instead of foam above the air chamber and with a contoured vs. rectangular shape. The down pillow will run about $15 more, and is listed around the same size and weight in both sizes and presumably would pack up smaller. Foam seems to work better for pillows in my case though since down compresses so easily, and thus at around the same weight, I elected to go with the REM and prefer the REM's rectangular shape, but it just depends on what you're after. 
Overall, while the Exped REM is heavier than many ultralight pillows and packs up larger, it's also been the most comfortable pillow I've ever used in the backcountry. I've ended up taking it on every trip since late spring and it's even in the comfort range to be suitable for other types of trips like traveling or car camping. 
The REM pillow from Exped retails from $49 to $55 depending on size. I picked mine up here at REI, and it's also available at CampSaver and Amazon.com.

The Sea to Summit Aeros

Sea to Summit's offerings in the backpacking pillow market consist of the Aeros Ultralight and Aeros Premium Pillows. Both feature Sea to Summit's great dual-function inflation and quick deflation valve and a scalloped, anatomical shape. The pillows can be inflated by mouth and I found the valve compatible with the Exped Schnozzle I already have…Sea to Summit also offers a couple inflation solutions and by inflating slightly more than you prefer and then tapping the deflation valve one can easily achieve just the right balance between height and cushion. The ultralight version as you might expect is the more bare bones model with a more standard fabric outer, while the premium adds a softer cover with a thin layer of polyester fill between you and the air chamber. The ultralight is available in a regular (List 2.1 ounces, $37) and large. (List 2.5 ounces, $42) The Premium Aeros Pillow is listed at 2.8 ounces and $40 for the regular, with the large coming in at 3.7 ounces and $45. We tried both models in the large size, mostly for the additional height that's offered for a side sleeper over the medium. The ultralight weighed in at an actual 2.65 ounces and the premium at 4.1. The stuff sacks for each add about 2 tenths of an ounce.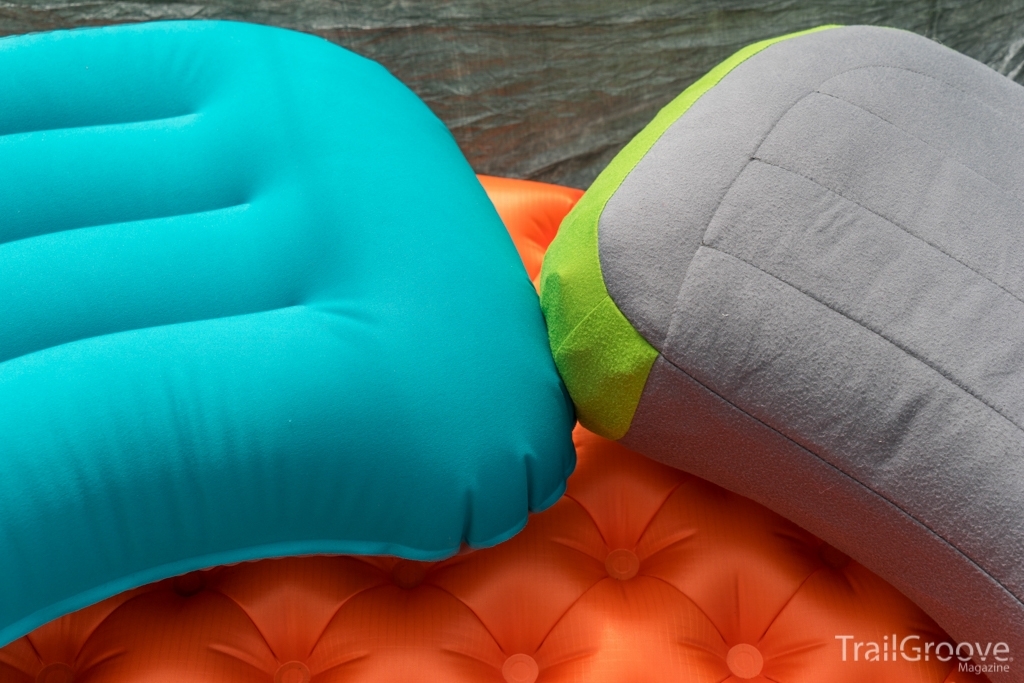 Both pillows have a nice amount of give even when fully inflated (Many inflatable pillows can become a rock in this regard) which does help to make the pillow much more comfortable. Both pillows feel comfortable against your face and while the premium does offer a softer outer fabric in this regard, the polyester fill of the premium is a really thin layer and doesn't honestly, offer much additional cushioning in my experience. The baffled shape helps to keep your head in place, and any noise turned out to be a non-issue with either choice.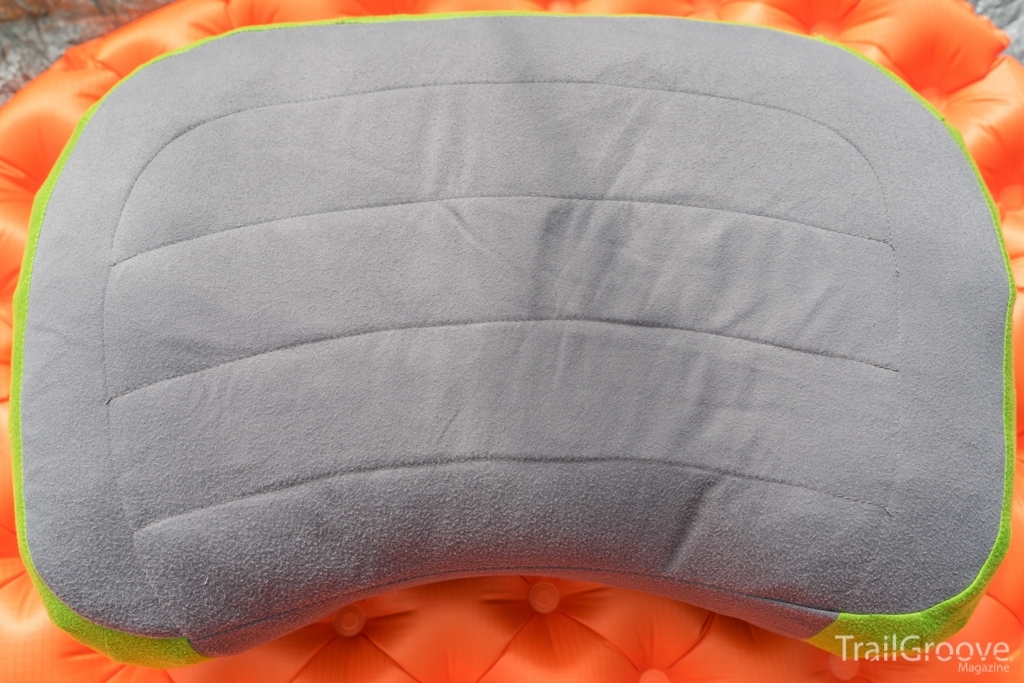 Unfortunately, there are no included loops to attach either pillow to your pad and with this in mind in some respects, if you use an additional method to attach the pillow to your pad (a requirement for me) the premium model may not be the best choice, as I was forced to use either pillow with a HikeBikeDale Monkey Pillow Case, which already sports a fleece cover and allows you to add extra cushioning in between the case and pillow for extra cushioning and warmth as desired. (Depending on what's laying around in your tent at night) Used in this way though the Aeros is still a light and a versatile system that packs small, with the ultralight of course winning here.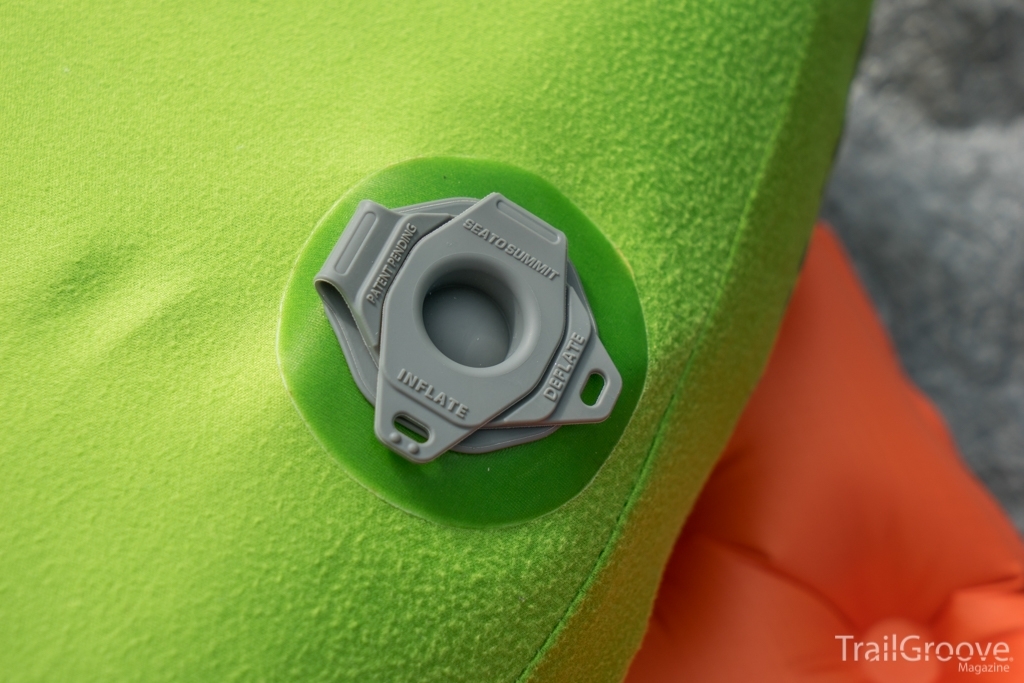 For me, while I love everything else about the pillows and the premium is especially comfortable, without any included way to attach the pillow to my sleeping pad my vote would be with ultralight since I'd need to bring along a separate pillow case solution anyway. However, if you like to sleep with your pillow inside of your sleeping bag this might not be a problem. (I use a hoodless bag, but have found that on especially cold nights I can't get a good seal on hooded bags with a pillow inside)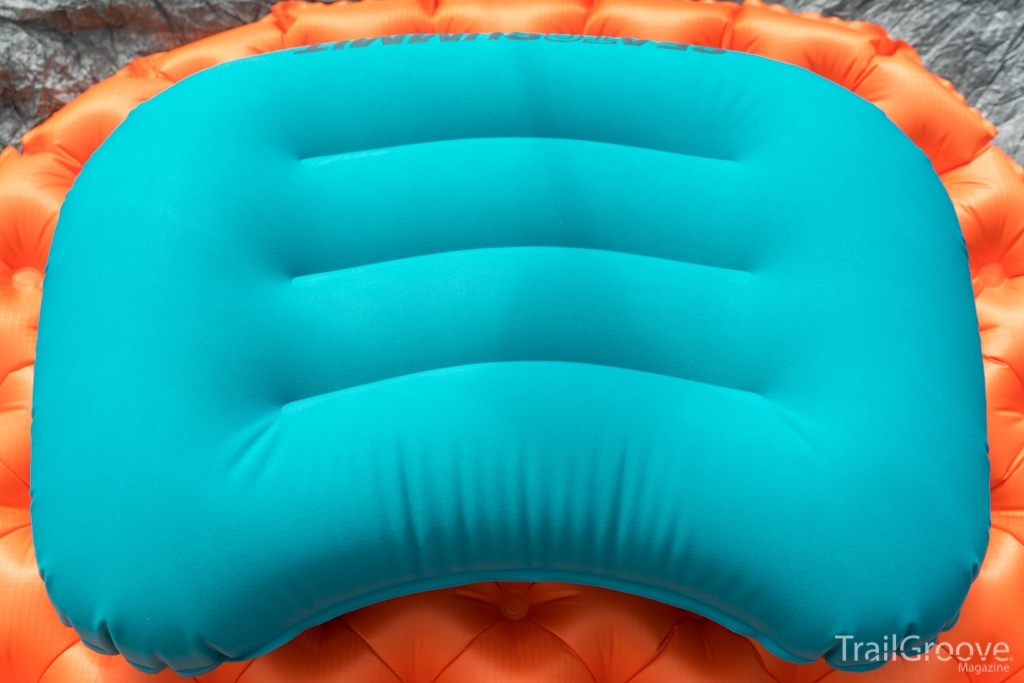 The scalloped shape however just isn't for me, as it almost felt like my shoulders where pushing the ends of the pillow out of the way throughout the night as I tossed and turned. But again like shoes, personal preference very much applies here and as proof, for my backpacking partner Jen the shape is preferred and the pillow is a winner. In her case and as such, her backcountry pillow of choice is now the Aeros Ultralight.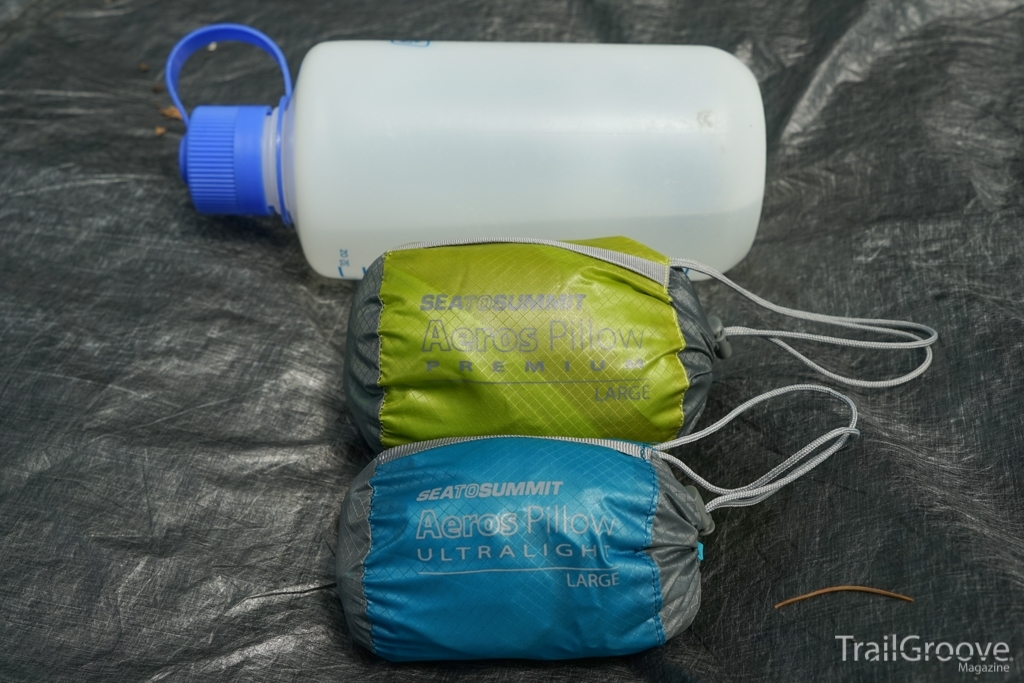 The Aeros Ultralight Retails at $37 - $42 with the premium version coming in at $40 - $45 depending on size. We picked ours up on sale Here at Campsaver, but you can also find them below at REI and at Amazon:

Sea to Summit Aeros at REI

What's your backcountry pillow solution of choice?
1